August 30, 2022
Well here it is a year later and most of what we were doing last year has come to completion.  The Getgoes film has turned out better then we had ever expected.  A big thanks to all involved and especially Peter Guindon whose annimation and ideas took the whole project to the next level.
So here we are, the film is off to film festivals and we've been accepted into three alreay- Amsterdam, Berlin and New York.  As well, the first single/video from the Getgoes album, Thoughts and prayers, will be released Sept.16/22.  It's out to the college stations and we are looking at a bunch of promotion all way up to our Toronto screening of the film, December 3, 2022.
This last year saw us play four shows, one in Toronto last fall, one in Ottawa in February, a really fun one in Hamilton in May opening for the Forgotten Rebels and then one this past August in Niagara Falls.
Lastly, we did work on the recording we started last August and pretty much finish up ten of the songs that will make up the album.  It's really an upbeat rock and roll album that will get your ass wiggling.  We'll spend the next few months mixing the tunes with no firm release date for it yet, (we need to release the Getgoes first).
Caden's off to school for his second year and Jared's in Ottawa, so live shows will not be as often. Keep your eyes peeled for The Getgoes and pick up a linited run gatefold coloured vinyl.
But make sure you reserve December 3, 2022 for the Canadain debut of "The Getgoes"
September 7, 2021
It's been a while so I'll try to update you about everything that's been going on.  First off, the animated film for "The Getgoes" recording has been been shaping up with excellent progress/results.  Thanks to Kristie Ryder for her cover art and character design- (that's off being pressed as we speak).  Izzy Zeidler contributed her artistic skill in creating the line art for hundred of stills and background art and the wonderful Rachal Muir assisted with her illustration and colouring of all the line art and scenery.  Finally we have partnered with Peter Guindon who has been knocking it out of the park with his animation.  So far we are about 50% done but making steady progress every month.  March 2021 it should all be done with a release in the fall of 2022.
The "Live Pandemic Sessions" has been sent out to college radio this month and hopefully they will discover some gems for play.  September is a time for back to school and this year is special for us.  Caden Jax is off to university and Jared Dean is taking on line courses as well.  Therefore because of this we will be concentrating on recordings instead of live shows over the next few years.  Our one and only live show will be this Saturday, September 11, 2021 in Toronto at Shack land Brewery at 2 pm.
August saw J.P. and Caden enter Green door studio and lay down the drum bed tracks to 15 tunes.  We'd planed on only doing eleven or twelve but over the three days things went smoother than planned.  This coming weekend after the show, Jared is laying down his bass parts over the two days.  The idea is to work on these songs over the next couple of years while we are busy with school.  But as you know we are looking at "The Getgoes" or next year with these sing probably shaping up for a 2023 or 2024 release.
Next up will be more news about the animated film, dates, releases, a show around that ectara.
April 28, 2021
Well March 23, 2021 saw the release of "Live Pandemic Sessions" with an excellent mix by John Critchley.  With that we released a fourth set of just the albums songs remixed.  We also recorded a birthday song for Gary Topp's graphic novel, "Topps" channeling our inner Ramones.  Behind the scenes we have put in place all the team to work on our next project- the animated film of the album "The Getgoes"  This will be a longer endeavour and should see complition later this year, early next year with a big release next summer.
In the meantime it hasn't stopped us from writing a bunch of tunes that we hope to start doing some bed tracks to this August.
February 8, 2021
The third set has been released (all new never released songs) and can be viewed through our YouTube page/channel.  Working on the 15 song live album from these sets and an animated film is shaping up for the album – The Getgoes.  Coming up on one year since live shows with an audience were allowed to happen.  JP
December 14, 2020
Hopefully you've had a chance to check out the first two filmed live sets.  It on our YouTube channels and there is one more to be released January 15, 2021.  After that we'll be culling the best fifteen tunes to make a live album of it for streaming only.  Well, the years draws to a close, no shows on the horizon but still lots of new music that we've created.  Cheers JP
September 17, 2020
Wow, it's been a long journey with this latest album.  But the recording mixing part of it draws to a close this week.
In 2018 songs started coming together for this album.  We recorded our third album Sound Check and Fury in august of that year and indeed some of the songs were written and in fact one was slated for that album but we felt it didn't quite fit and was moved to this album.  By Christmas of 2018, I formulated what this album was going to be about and since it has a concept to it, what that was and the overall story arc.  Finally over Christmas 2018 I wrote three more tunes and reworked a couple others to arrive at the final song selection.
Early 2019 saw us release the EP, not from this town at that point one of the songs, Not my problem, was already a set opener.  We rehearse this album from that time in between the shows, the release of the second album and the tours that went with each.  By the summer of 2019 we were rehearing these songs exclusively sharpening them up to the a recording level.  We adjusted the order slightly, Change the world shifted to number four in the order from number two and the addition of a reprise to the of the title song before the last tune.
As well the in between song vignettes were finalized with Jared tasked to develop these sections.  In all there are thirteen songs and eight vignettes and two additional between song sound effects/voice overs.
September 28, 2019 we entered the studio and recorded the bed tracks to the album.  Drums, bass, rhythm guitar, the basic three of us playing the tunes as we would like a live show.  But this album wasn't to be like us live.
October 5, 2019 we returned and did  more guitar work.  Different sounds for the different songs.  We also added a different sounding bass guitar on different songs.  October 26, 2019, we added acoustic guitars, percussion, and Jared added guitar parts that consisted of guitar melody parts and riffs.
I also added my lead vocals and doubled those as well as some harmonies.  At the very least, there was a lest a ghost vocal on all the songs as by the end my voice was a bit raged.  At this point a typical Discarded album would have been done but as I mentioned tis wasn't a typical Discarded album.
We also had the fact that in November we we're releasing an album and doing a number of shows around southern Ontario throughout November and December.  So the next session, I corrected the raged vocal parts, added more of my harmonies and employed the use of a female back up singer, Carmen Toth.
Carmen was recruited for the project for her vocal rage, an offsetting higher harmonies and also for the fact she could also do voice over work for a character in the vignettes called, J Dan (Danielle).  Working with Carman we developed harmonies for all the songs and when we finally went back into the studio on December 15, 2019 we laid those higher and mid harmonies onto the thirteen main songs where needed.  At the end of that session Jared added his fill keyboard parts on the Wurlitzer and then worked with John on the ideas for horn parts on six songs
During the Christmas break we finish playing the last of our shows, we had planned to take a break after a busy fall beginning of the winter.  On February 23, 2020 we entered into the studio to add electric piano, regular piano, an additional backing harmony and finally the main part of the session where we added horns six songs and cello on one. So after six sessions ten hour sessions we had all the parts completed for the main thirteen songs.
The plan was we would reconvene for a session to record the eight vignettes and two addition sound affect parts.  It would be the band, Carmen Toth doing voice over of DJ Dan and another actor voicing the character of Johnny Rhythm.  Well, then covid happen and everything went into lockdown.
John Critchley who has been co-producing the album and who's Green Door Studio we had been recording had given me a rough mix of all the songs with all the parts.  We decided that we could easily continue with the project by moving to the mixing of the main thirteen songs that we had just completed in February.  So over the coming months we would concentrate on this.  So over the course of April, May and June, John carefully mixed and balance the myriad of instruments, sounds and voices of the thirteen songs.  He would send us copies to listen to and with only minor alterations we arrived at the final mixes.
As well during this point we determined that we could achieve recording the vignettes between a recently purchased recording unit and mics at our home studio/rehearsal space and sending those files to John to mix at Green Door.  We had made demos of the vignette musical sections prior to the canceled March scheduled session but after a little rehearsal we laid down the final beds for those on May 31, 2020.  By the time later June of 2020 was happening, covid restrictions were easy a bit and Carmen Toth was included into our bubble to record the DJ Dan voice over sections of the  vignettes with myself (J.P.) doing Jay and Dave Loveya and graciously John agreed to lend his voice as Johnny when the actor who was slated was unable to make the commitment.  On June 19, 20, 2020 that was accomplished with minor sound effects and retakes done over the following months.
After some out of the city cottage time for John he started sending these mixes our way in mid August.  Which bring us to today when John sent the last mix to the us.
So here we are just shy of one year to just record and mix this album. Thirteen songs, eight vignettes and two sound sections. Twenty two parts to the album with a running time of fifty minutes and fifty four seconds.  The best way to think of it is an audio film sound track, a concept album.  The Discarded present to you the story of rise and fall of "The Getgoes".
Next Step- mastering.
August 6, 2020
Well even though the worlds of live gigs is still nonexistent it didn't mean we haven't been up to nothing over the last few months.  As things turned out, after a slew of shows in November and December last year, we had planned to lie low and finish up the recording we'd started in September of 2019.
That's exactly what we've been doing.  Ironically the principal 13 songs were finished early March 2020 and we took the early part of the pandemic to work on getting those all mixed.  John Critchley did a fantastic job on a very layered/intricate recording that I think will blow a lot of people away.  The second part was recording some vignettes that went between the songs.  Short little musical parts with dialogue over top that ties together the concept and story of the album.  We did those at home in the rehearsal room downstairs and recorded the voiceovers in June to finish them up.  As well we did some streaming and played all three albums and our EP start to finish and recorded a live set for CIUT – Moondog ballroom that they broadcasted.
The issue is a cell phone and one angle doesn't really capture a loud punk inspired rock and roll band that well.  So we decided to go into a proper studio with multi-cameras and do it for real.  We picked the August long weekend which was the same date we recorded our first, second, EP and third album as the date to hit Sessions on the Lake studio in Fort Erie.
On August 2, 2020 we arrived at 11 am and by 1:30 pm we were rolling.  The idea was to do an overview of our catalogue of songs.  The first set was a greatest hits of album 1 and 2.  The second set was a greatest hits of the EP and the third album and the third set was a split between the current album we just recorded and brand new songs that we've yet to record.
Five hours later by 6:30pm we had laid down 37 songs and 3 sets.  The idea is with no live shows happening right now, we'll be releasing one of these sets every four months.  After that a set of the best of the three sets (combination of the three sets) and finally a live album from the sets of the best 15 or so tunes.
Lastly, we revisited with our old friend and resident photographer, Rick McGinnis to do a photo session the Saturday before we down to record the live sets, August 1.  Rick has shot the band for the last four years and it seemed like the right time to capture us again with some fresh images.
So stay tunes- for all The Discarded has in store for you in the coming year.
A new concept album called- The Getgoes.
Four live sets of music and a live album from that.
New visuals to go with the new album and a live album.
After that we'll look at recording the fifth album of straight up rock and roll tunes which the live set will give you a sneak listen of a few of those tunes.
Cheers- JP
April, 20, 2020
Well the world has sort of gone sideways.  March 13, 2020, a contagious virus had started to sweep North America and emergency measures were enacted that has virtually shut down North America except for some essential industries.  As such the handful of show we had agreed to have all been canceled.  All clubs, venues, festivals and gathering have been canceled and closed well into the summer and possibly beyond.
We did however finish up the bed tracks on our latest recording, We are the Getgoes, that we are working on.  We brought in the talented Carman Toth to assist on backing vocals in January.  I finished up my vocals.  Jared added some keyboard and guitar melody parts on some songs in February and finally we wrote and added trombone, trumpet, sax on a half dozen songs and cello on one.
We had planned to head into the studio on March 24th to record the little vignettes and joining dialogue for this concept album but respected the social distancing decree and cancelled that session until things settle down more.  As such John Critchley, whose Green Door Studio we are recording at, has begun mixing the thirteen main tunes.  Even the rough mixes sounded great.  Sure this album has the heavy tunes you'd expect of us but also has four or five that break out of our usual mold. Sure bands always say this but it really is the best recording we've ever done and personally the most complete I've ever done in my life.
Outside of that we did record a live set in our basement that was played as part of CIUT Moondog's Ballroom on April 7, 2020.
Ironically, we had said we wanted to lay low during this time and we've been jamming and perfecting the songs for the next record we are going to record after "The Getgoes" project. The new recording unit has been handy in working on demos.  Currently we have about twelve or thirteen tunes that could go on that one.  The plan is it will be a straight up heavy rock and roll record with a few high energy power pop punk tunes as well.  No accompanying script/story or concept album just some songs that will again show the growth of our sound and errr…kick some ass- ha!
At this point, stay in, stay safe, love to all- JP
January 21, 2020
It's tiring to do a few things band wise at once.  From the beginning of November we played every weekend until the end of December.  To say the least we were a bit exhausted after two months of shows.  As well we started the recording of our next record.  So far we have done all the drums, bass, lead singing and most of the guitar.  Unlike previous recordings we are not doing it all at once.  We did two sessions September 28th and then another in October.  Finally we did another session in December.
We recorded 13 songs and are heading back into the studio this Sunday. There we will be adding more melody guitar parts and leads, (mostly Jared).  Some more keyboard parts and finally the last of the back up singing.  After that we will be adding horns to some tunes in February.  Then there is little small bits in between songs that we are recording in March.
Then the recording of the album will be done and the next step is mixing and then mastering.  That should be all done by later summer.  As it s we got a 24 track digital unit to work on songs at home.  Over the past week Caden and I recorded nine demos of new tunes and Jared added his bass to four of them.  This will be the basis of our next album.
Besides that we are concentrating on this recording and not pursuing  any live shows.  We were asked to play two in March that we'll be doing.  Outside of that we are taking a little family vacation in April and will look to do some planning for later summer, fall.
November 27, 2019
Pretty much mid tour.  Been at this since the beginning of November and had a few shows added near the end of December.  Closing out the year December 28, 2019 at Call the office in London, Ontario.
It's been fun so far and we are quite comfortable on stage at this point.  It's a nice feeling when a band gels and nothing much throws you for a loop any more.  There's been a bunch of interviews and positive feedback about the band and the new album.   What's also been interesting is we tend to vary the set from night to night depending on the bill and the crowd.  We play some gigs that are heavier more punk rock and others that are not so much.  At this point we have over 50 songs so its nice to be able to change it up and play a wide variety of our tunes.  Also this tour we are doing about 15 songs per set.  Mostly we don't talk much in between songs and try to make the set flow from one tune to another.
On a separate from we got back some rough mixes from our latest recording, it sounds great and is a big departure from our previous records.  We are using these rough mixes to plan out the next few session that we are doing to finish it off.  There is going to be some surprising sounds/feel on this one.  Next up is some back up vocals and some dirty 60's sounding keyboard fills.  After that the probably one/two more sessions where we will add the final touches to the songs.
After we finish the song portion we will be recording about seven short little between song pieces that helps tie the story arch of the album together.  These will not be Discarded songs but spoken word parts with background instrumental parts written by Jared Dean.
After the tour is done we will be concentrating on finishing up this project in the first quarter of next year and also turn our attention to some new tunes we've been putting on hold until we can concentrate on them (the album after this one).
2020 we are going to make an effort to not play as much live and concentrate on our recordings.  But who know- I guess we'll see.
October 8, 2019
Played our first show of the tour last night in Barrie.  And the album is officially out.  here's some links to a few mentions and reviews:
https://www.punkanormalactivity.com/2019/11/08/punkanormal-buzz-069-the-discarded/?
http://fbclid=IwAR1Yk6TS4tpItKxqhPNMsxF89dT8rnHt69Vzgpe6pi0Nt1suHcUW7jHHyGY
https://l.facebook.com/l.php?u=http%3A%2F%2Fexclaim.ca%2Fmusic%2Farticle%2Fthe_discarded_announce_new_record_plot_ontario_tour%3Ffbclid%3DIwAR0F7-L3n3YFZYKKJ5O_0ORRgB7CTGh7oNDLQ5tiRqBS9AstsUXOGOvYhNM&h=AT1tXPTVLppc9Iv__lrPLqv2p6nQ2Fh2So0b_JGxfsCpx42XaETL-nShrX8MEZKCt_HvFL3HwJrKEWqyZ_viByTZmKVY1DsJqUuhGcWkAU8Tsi1qs-CCFY5tLxECvnNoPkFs_XjxPZwsu9Cge-5A4v-rE6Yd3QTIwnTYfCFDFk6evLbU15USwGxIPVA0IlV4D9RSTYkDGaobL6GQW2IXkiyQITAbKk2OVx2Gw86_cJl8897-RhH-rnCiLnvvyGphhNLPhcfmuhLFXoeARchfogZ9OOOdJFj6PPr91ld37PcXu-DB8nR7UxhxHdl1NteiM2_6BhPtH9UOsw2q9Cl0JjhaUI9zQWE-8bMKOtiVbbYXbrU6U6E5EppLoNkqDmkzb0qzw8_NmTLNOu3xmGdDQ9AnxelqNRh4YjE1fFLScOijPJSK4ZNjN_ADo-eXAwvUXDboqCMRnwYQwt0XY8WfxYsPMi95peAk8PWFQIkkKP8F7zUCZ3gxBWu2m0bkiJ6njisRfqpcSsji2-kO5gAUAB-LsfvUO8F1Kw1B-wRTvb9a5VzkknR8QZS3jzz8LyIUItojQYxWwUpa3dbeJDCpqRbplrnkW3x6fDaklU1TGjUq7a9t-fNpKuOOVRznM56ZfLLO9Tc
We also headed back into the studio and finished up the bed tracks on the next recording.  We'll be adding the final touches over the next couple of months on a record that has some tunes that are a bit of a departure sound-wise.  It still rocks but the sound on a few is expanded.
September 30, 2019
The new album, sound check and Fury, is out to Canadian College radio, the tour is booked for November and December and we've even put together a DIY box set of all our releases.  But this weekend saw us head back into the studio to begin recording  the next record.
But we also needed to complete another video for the new release.  So the lead off track is called 24 hours and is a day in the life of a band so what better way to accomplish both projects then to film us getting ready and going to the studio.  That footage mixed with the other footage of the band over the last three years will comprise the video.
Here's a little travelogue about the past weekend:
Friday 2:30 pm – Cory arrives to film Caden packing up his drums for the studio.  By 3:30 pm we head over and get some gas and put some air in a tire, grab a coffee, pick up Jared at work and drop Caden at his job.  Jared and I head back to our place and pack up the guitars and amps and move upstairs.  Cory captures this day in the life of the band and has his footage until the next morning.
At 9:00 am were up and loading the van with our gear as Cory documents that.- then it's off to the grocery store to get snacks for the studio and then off to Green Door to record.
We arrive at 10:45 am, unpack, set up the drums and amps and then it's off to lunch at 11:15am so John Critchley can mic the drums.  We're back at the studio at noon and we tune the drums and get the sounds.  By 1 pm we are rolling to start recording the bed tracks.
Since I have my Rickenbacker 330 plugged in we decide to record the songs that will have that as the main rhythm guitar.  Cory the videographer catches the first few tunes of us recording the beds and then is off as we have a bunch of footage.  From 1 pm to 7 pm we do takes until we are satisfied that we got a solid drum take and then give it a listen to ensure we recorded the correct arrangement.  The bed tracks isn't all three of us this time but just Caden on drums and me on guitar.  We are also using a click track for the first time recording in order to get a take at the same speeds and be locked in the tempo.
With the Ricky we did:
We are the Get goes, We are going to change the world, Little bit of alright, Bubble gum, Generic B.S., Best that I can, We are the Get goes (reprise) and Good to be around.
Then I switched to the Jaguar guitar for the more rock songs and we did:
Truth Seeker, Thoughts and prayers, Johnny's got an ego, we quit and Not my problem (which gave me a bit of a problem to get right- ha!)
Finally we broke for pizza around 7 pm and I added a cymbal crescendo at the end of it's good to be around.
Jared got ta bass sound and did W are the Get goes and Truth seeker.  At 9:30 pm we called it a day, Caden packed up his drums and we headed for home.  Dropped Jared and unloaded the drums at home and was in bed by midnights.
The next day, Sunday, September 29, Caden and I loaded all the guitars we might need and headed out at 9:30 am.  Got some coffee and picked up Jared at 10 am.
We got to the studio at about 11 am and it was right into Jared's bass parts.  With his Rickenbacker he split the output to two amps on cleaner and the other more distorted with a lot of treble attack.  sort of a Who bass sound.  With that sound we recorded, Johnny got an ego, Generic B.S., We quit, Thoughts and prayers, little bit of alright and Not my problem (which he didn't have a problem with).
Then Jared switched to his P bass for Bubble gum, Best that I can and good to be around.  We finished up his bass tracks around 5 pm and broke for dinner.
At 6 we returned and decided that the sound of my guitar on the beds was a little too distorted and buzzy and that we should ensure we had a good sound that fit each song.
so I got a less distorted sound on my Ricky and redid my rhythm guitars.  We also double them on each track to beef up the overall guitar sound. The sound we got was cleaner than I use and more Ricky chime.  I decided that I would use my Ricky on "A little bit of alright as I wanted a more rock sounding guitar.  On "Best that I can" and "Good to be around" the distortion was definitely rolled down which really leant itself to the song and took the song in the direction it needed to go.  which in this case is a departure from what The Discarded has sounded like on previous records.  But the idea was that on tis album we are no The Discarded but this fictional band called, The Getgoes".
Next up was the electric twelve string.  the idea was I wanted to put it on the songs I was using that on so it would really give the feel to those songs and shape how little I used the distorted rock guitars on the songs that had the 12 string electric.  The result was just what I wanted.  On We are the Getgoes, the reprise, Generic B.S., Bubble gum, It's good to be around and The best that you can it takes those songs into the chimey power pop feel that we wanted.  Not too worry there are some straight up heavy rockers on this record but overall it's far more eclectic than our previous records.
At the end of the evening I took out my Jaguar and did the guitar on A little bit of alright and we called it a night a little before 10 pm.  I had a headache and was not feeling the best but we got some great work down.  This coming Saturday we are back to add more guitar parts and will start with the rock songs and then the secondary guitars.
Then it's the lead vocals.  After that we are doing a rough mix to see what finishing touches we are adding, percussion, harmonies, backing vocals, keyboards and maybe even some horns on a couple of tunes.  Like I said, this album will be like no other we have recorded yet and that's a good thing.  I'll keep you posted.
September 13, 2019
A lot of planning and prep work going on.  Album Release (Sound check and Fury) November 16th at Duggan's with Locomotive 8 opening.  Demos last month at our friend Drew's for the upcoming recording at the end of September at Green Door Studio (We are the Getgoes).  Doing the mail outs for college radio next week and the plans for a video to go with the album.
As well November, December will see a slew of shows over southern Ontario.
June 25, 2019
Right now we are sitting on our 3rd full length album- Sound Check and Fury for release in November 2019
Recording demos for our 4th full length album in July 2019 and heading into the Green Door Studio with John Critchley to start recording that one in September 2019.
Currently finalizing our 5th album and a date to record that one in February 2020 at Revolution Studios in Toronto.  8 songs of straight up rock and roll- (expect to see it before album #4- fall 2020)
June 19, 2019
songs we've written so far in three years 4 months of being a band
The Discarded
Feel the Glow*-1
Could that be you?*-1
Crybaby*-1
Cheques on Time*-1
Half full cup*-1
Time Flies*-1
Ballad of a broken man*-1
Check it out*-1
Time bomb heart*-1
 Toxic Reasons*-2
 Janitor Joe*-2
 40-40-40*-2
 Please*-2
 President*-2
 Do you want it now*-2
 Mango Mussolini*-2
 We Resist*-2
 The Trap*-2
 I don't know what to believe?*-2
 Pot Stinks-3*
 Silver Spoon-3*
 My baby is a go-go girl-3*
 Music whores-3*
 Up is down-3*
 Mile in their shoes-3*
 Leg on his shoulder-3*
 I'm addicted to her-3*
 I like to get high-3*
 My life story-3*
 Looking forward-3*
 24 hours-3*
 Joyful Bits-3*
 A bit too heavy-3*
 Not from this town-3*
 Has been never was-3*
 Expectations-3*
We are going to change the world- 4
 The Getgoes- 4
Thoughts and prayers- 4
 Truth seeker- 4
 Little bit of alright- 4
 Johnny's go an ego- 4
 Bubble gum- 4
 Generic B.S.- 4
 We quit- 4
 Best that you can- 4
 Not my problem- 4
 Good to be around- 4
 Sex Drugs and rock and roll- 5
 Pop song- 5
 Angry Man-5
 A new way of thinking-5
 Wait and see- 5
 Crazy love thing-5
 Twenty odd years-5
*means recorded and released
May 27, 2019
So we have completed the artwork for the next album and have just submitted the test pressing.  This after the excellent mastering by Joao Carvahlho.  There has been a bit of a break after the slew of shows around the release in March and we used that time to rehearse the songs from the next album we are going to record.
Another interesting development is the writing of new songs and solidifying those arrangements.
We'd have to say this is the part that makes it a band and makes it a hell of a lot of fun.  Creating music.  At this point it is a collective.  Sure I write a lot of the words and maybe come up with some chord structures but Caden has realty taken an interest in the arrangements and has a lot of fantastic input on the structure of songs.  Jared is the most well rounded from a technical standpoint so guides us when discussing keys and what would work if we get stuck.  Together we've crafted lately some of our most intricate songs and musically diverse sounds.  We are also a pretty well oiled machine as far as creating a sound that is uniquely us and incorporating these ideas together as a whole.
A lot of the tunes where written in jams with Caden and myself.  Jared tends to be more studied- learning the roots and structure and then taking it away and writing a cool part with a lot of counter melody.
So the unique position is we are releasing a new album in November.  We are recording the beds to the album after that in September and we are putting the finishing touches on the songs for the album we will be recording next year.
Rehearsals tend to be a few songs from the first three albums, typically ones we done play much live.  Run half or all of the next album we are recording and then a couple of the newest ones we have written.  Soon we'll need to start rehearsing sets of songs we'll be playing live.
Having a blast- cheers J.P.
March 26, 2019
Interviews keep happening:
Check out our Facebook page to listen to the links.
http://www.facebook.com/thediscarded16/
We have invented a new drinking game that every time they mention family, family band or playing with son or dad- you have to take a shot.  If they say what's it like playing in a band with sons/dad- you have to chug your entire drink.  (You'll be wasted by the end of the interview)
I'm just having fun here.  We get that that's the hook or novelty of the band.  But we're in this because we can play some kick ass rock and roll as a band.  We write some great tunes and make some great sounding recording.  You know stuff a band does.  If it was only about playing together because we're related then we never would have left the basement or played out.  Visit our music page on here and decide for yourself.
So we're five shows into our seven show Southern Ontario tour.  A shout out to the wonderful people who came out to see us and the bands we've been playing with.
The Waterloo punks were a bit edgy/angry to start the shows off.
Toronto is always a nice vibe and people at Club Duggan's.
Peterborough was a pleasant surprise when some people you don't know come out and get into the show.
Newmarket was our first time there and played to a good crowd and with some cool bands.
Oshawa was a downtown rock and roll crowd.
Looking to finish it up with a show in Hamilton at slam fest and Niagara Falls on April 13th.
Meanwhile we've been gearing up for the next record to be released in November of this year.  Part 2-3 of Sound check and fury.  We've been working with Rick McGinnis and Rachael Muir again and have finalized the cover and we'll be heading into Joao Carvalho to master the 12 tracks we recorded and mixed last year with Ian Blurton.
We'll be doing a few shows this later June and earlier July and then working towards the release in November with some special plans for the November release show.  So that's what's going on- well and of course writing more songs and planning the next recording date for 2020's album.
February 28, 2019
Interviews keep on happening as we gear up to the record release March 9th.  Here's one from a radio interview Queen's University radio punk show.
https://www.mixcloud.com/TheNorthernUnderground/the-discarded-interview-on-cfrc-1019-fm-18022019/?fbclid=IwAR2q0VTr6Sc4PTbkpzBQVnq6fGityH3UqxdonX9lDYizLbEltKn4vldkuVY
On a side note, Jared and I were involved with a little recording project with another band called, Sharky!
Jared guided the band during the formation of their songs and brought me into drum on the five tracks.  This past weekend we entered John Critchley's Green Door Studio and laid them down.  Sound great and Jared even added a keyboard part on one tack.
Other news is we will finish up the remaining 12 tracks by getting them mastered over the next few months.  Then look for a November release for them.  Finally,  we're busy rehearsing the new songs for the "Getgoes" project and need to think about when we will record those tracks.  As is always the case we still keep writing new songs with two new ones added in the past week, we're getting ahead of ourselves but it's a good problem to have.
February 19, 2019
http://www.punkanormalactivity.com/2019/02/18/not-your-typical-family-band-interview-with-the-discarded/?fbclid=IwAR1jhnoNHq3yvZUbRLpZQ4vzz_bY4roFLekvgvHLwVtz08HQfoiGpXv9-3c
Latest interview
February 15, 2019
A little unexpected press today:
The Discarded – "Not From This Town" Album
January 23, 2019
We have a new video, new EP, new vinyl and CD all in our hands and are just gearing up for our release show in Toronto on March 9th at Duggan's Basement.  This year we are supported by The Punching Nuns.  As well we have a further five show throughout the month of March around southern Ontario to kick the EP off.  Waterloo on the 8th, Peterborough on the 16th, Newmarket on the 22, Oshawa on the 23rd and finally Hamilton on the 31st.  We'll be doing some more shows in April, May and June.
The record is out to the college station in Canada and the band is excited with each add and play that we get news of.  Next up is some interviews and we always like to here some feedback on the actual songs on the albums.
This past weekend we had the honour of opening Rusty's record release at the Velvet Underground in Toronto.  It's a great club and Rusty has released a fine collection of new tunes.  The band enjoyed listening to the new CD on the way to shows.
Jared has been busy producing the new band, "Sharky" from Orangeville Ontario as they move towards recording their first EP and manage to add another bass to his repertoire, a Fender Jazz model.
Our label Rock Bottom Records will be looking at releasing Sharky's debut EP in the fall.  The EP will also see JP beating the skins as he gets back to his first love- the drums.
Caden Jax is taking it all in stride having recorded three albums before the age of sixteen.  He enjoys hibernating in the winter and has taken up snow boarding.  All in the band are hoping he doesn't break his wrist like his younger brother Trey did.  Well all the best – talk to you soon with some more updates.
November 27, 2018
Review of our last show
wp.me/p7WUHp-1ch
November 5, 2018
Well the work has all been done and the first EP is off to the pressing plant.  Now the work begins on booking shows, promotion, mail outs and the work of putting together the next two EP's.
So why not write the next album while your waiting.  We love playing the songs we've written but what is exciting this about this band isn't just rehashing the greatest hits but writing the new ones.  So this past weekend we put the finishing touches on the songs that will make up the new album.  Now, we recorded 17 songs this past August and wrote a musical/play to go with them called "Sound Check and Fury".  So next year will be pretty busy with bringing that recording to the released and available finish line.
So how do you follow up a 17 song musical?  Well how about a 11 song (so far), concept album.
This one will tell the fictional story of "The Getgoes" and the bond between the two main songwriters that takes them from their formation to the heights of stardom.  The two main characters- Jay and Johnny have a deep bond and a plan for world musical domination.  Jay has the punk rock credo and Johnny has the rock star good looks to back the message up.  They aren't as much a band as a social movement set to music.
Unfortunately, as is oft the case, Johnny suffer from LSD-lead singers disease- and as the band gains more and more popularity the whispers in his ear from record executives and adoring fans makes him forget that it was the band as a whole that got them to where they are.  "The Getgoes" often are referred to as "Johnny and The Getgoes" and the rest of the band start to resent Johnny's star shinning too brightly.  Johnny starts to treat the other member's as mere sideman, hired guns.  The sharp songs and political message that made them popular is urged to be dropped by the label. The label wants the band to reach a broader market and pushes Johnny's, "heart throb", good looks to the front of the marketing campaign.  They neuters the band political edge in favor songs catering to teen girl heart throb mush.  The band reaches a breaking point and Johnny quits to go solo or is kicked out depending on who's story you believe.  Jay is devastated by Johnny betrayal of the band and their vision but carries on with " The Getgoes"  without him.
Johnny faces the backlash from the bands core fans as a "sellout" and his solo career quickly fizzles without Jays clever song writing and strong ethical message.
The Discarded present:
(Johnny &) THE GETGOES
  We are going to change the world
  The Getgoes
  Thoughts and prayers
  Truth seeker
  A little bit of alright
  Johnny's got a ego
  Bubble gum
  Generic B.S.
   We Quit
  Best that I can
 Not my problem
  Good to be around
Well see if that changes…until then stay tunes for the first installment of
Sound Check and Fury- (Act 1- Not From This Town)
September 28, 2018
We headed back into Pure Gold studio's with Ian on September 8th for a half day.  There Jared added keyboards to about 5 songs and I put a higher harmony on one song, Silver spoon,  that my voice was too tired to do during the original session.  So now the recording is entirely complete.  The keyboards are gritty sounding on three of the tunes to fill them out, then a synth sound on one bridge to add some flavour and finally an actual piano on the intro and outro of the final song of the recording.
As well, the first five songs have been mixed and will be mastered by Joao Carvalho the first week of October.  This will be released as an EP's February 2019, entitled "Not From this Town".  We headed out last weekend with Rick McGinnis and shot some ideas for the cover and band promo shots.  We've done this for the last three years with Caden changing the most year to year.
Over the next month Ian will mix the final eleven songs that will comprise the second and third EP's.  Then we can work on mastering and releasing those around July and November next year.  The second EP will be call "Life in a Van" and the third, "Looking Forward".
Finally, I've also done a couple of edits and rewrites on the accompanying play that goes with these songs. Each EP will have one act of the play and we will post it on here if you inclined to read and follow along with the EP's.  Don't worry though the EP's and the music stand on their own.
If you have caught a live show or will be catching one then you'll hear a lot of the first EP during the set (and of course of greatest hits from the first two albums.)
August 29, 2018
Word and Music article SOCAN
https://www.socanmagazine.ca/features/upstarts-the-discarded
August 27, 2018
The Littlest Voice Review- August 2018
https://www.thelittlestvoice.com/single-post/2018/08/23/The-Discarded-rock-their-Manifesto
August 8, 2018
Okay- we did it- and remind me to never do that again.  We've been playing pretty non stop since we released the album in later February.  Probably over twenty shows since that time.  That also lead up to our annual pilgrimage to Ian Blurton's Pro Gold Studios to do some recording.
This time it was an over ambitious project as previously mentioned in the blog.  We wrote a rock and roll musical in three acts.  In that musical there are 17 songs and this last four days saw us lay those 17 songs down.  Now the songs stand on there own so if your not into reading or seeing a play then don't worry- the music will impress you all on its own.
So here's a little recap of the recording while its still fresh in my mind.
The songs will be released in three EP's with each EP representing an act of the play- The whole project/album/play is called "Sound Check and Fury"
Act 1
Not from this town
I like to get high
Joyful bits
My life story
Leg on my shoulder
Act 2
Life in a van
Pot Stinks
Music whores
Expectations
My baby is a go-go girl
I'm Addicted to her
Act 3
A bit too heavy (for the mainstream)
Silver Spoon
Up is down
Has been never was
Mile in their shoes
Looking forward
Saturday August 4 started at 9 am, load the gear- check off that you have everything.  Then a stop at the grocery store to get drinks and snacks for the session.  Then down to Pro Gold Studios down at the Docks for load in.  Caribana was happening so the Lakeshore was shut down and the club next to the studio would be crazy as the day progressed.  The plan was to start at 11 am and finish each day by 10 pm so to avoid a bit of the traffic and crowds of drunken late night partiers. We loaded in by 11:30 am and set up and then we were off to lunch.  Caden had his new Sonar drum kit with new skins but Ian suggested her co with his 24″ sonar kick drum as he had a good sound already for that one.  As well we went with his ampeg bass head for Jared and he set me up with a duel amp rig for the guitar with a custom head and a smaller fender combination.
We headed around the corner to T&T supermarket for a lunch of Sushi which was all Caden was talking about and now makes three years straight the lunch of choice.  Caden proceeded to eat this for lunch over the next three days with Jared and I opting for a Chinese noodle option.
We arrived back and Ian had mic'd up the drums and the amps.  We ran a few tunes to get a balance of sounds in the room and Ian tweeked the drum mics to get the sound he was looking for.  A bit after 2 pm we we're ready to roll.
The first song up was not from this town.  We did about 6 or 7 takes and Ian suggested a drum into for the song and to shorten the intro before each verse by half.  As well instead of going into the opening riff to end it he had us do a double chorus.  A few more takes after that we had the bed track down but it was nice to get the suggestions from Ian.  This song has a very quirky sounding song.  Not a straight up punk tune like the last two albums.  More a Fugazi sounding punk then a '70 power chord punk.
Next up was, "I like to get high" .  Jared came up with this song and I solidified the arrangement and feel when I added lyrics to it.  It took us a few takes to get warmed up and then another 4 or 5 takes to get the keeper.  This song is a heavy rock tune with a driving bass line and drums that propels the song.  Vocally, musically this song is solidly in the heavy rock sound.
The first big challenge was "Joyful Bits".  This song was a newer one and also one we hadn't played a lot live until the last few shows.  After a few failed takes I suggest it might be better to try it with just me and Caden.  Big mistake, we try three takes and I make a ton of mistakes each time, badly playing the B chord so it sound horribly out of tune.  And generally failing to get any real flow to the song.  After the third take like this I say to Caden we should get Jared back in hear.  No sooner do I say this then Ian and Jared have opened the door and say the same thing.  To our surprise we nail the next take with all three of us with me giving my extra best to get a good take out of me after the last three abysmal ones.  The song has a Buzzcocks vibe to me but Ian said it reminded him more of Wire.  Either way it's a very driving song.
The next song up was supposed to be "My Life Story"  but Jared had a tough/intricate bass part on the last song called "Leg on his shoulder" so we decided to do it next when he was a bit fresher so he could nail it.  Unfortunately we forgot to tell Ian that we changed the order of his recording note list and thus for the rest of the session the titles are changed on the two recording- oops. The way about doing beds is that in you are doing them live off the floor together without separation you need to know the song with out singing.  As well all three people need to play the song correctly or if there is a mistake there will be a small amount of bleed into the drum mics and it will be heard.  After a few failed takes of "Leg on his shoulder" I suggested that it would be best for Jared to have as many takes as he needed to get his good take of his bass part and to record it after as an overdub.  Two takes later Caden and I had nailed the bed trax for the song.
"My life story" again went fairly quickly with me opting to play a straight rhythm guitar instead of picking the riff on the break parts.  I would do that as an overdub after.  Again after a few warm up run through we finally got a good take in fairly short order.
Buy 4:30 pm we had the five beds done for the day and Ian had time to clean up some of the tracks.  We opted to break for dinner and returned to T&T Chinese grocery to get some tasty noodles.
As well Caden had been swilling cherry cokes and the Vachons were nearly all gone.  I did convince him to eat a banana instead but as usual the cookie where popular with both boys (chips ahoy).  Out side was hot and that translated to the room.  The air conditioning could not be run as it would get picked up on the mics.  Caden was down to wearing just shorts and regretted that he had forgot to pack his towel.  I was down to an tank t-shirt and even that was fairly wet. (Day two would be even hotter).  We got back after lunch and it was time for me to do my vocals.  But first Jared does his bass part on "Leg on his shoulder".  He does a great job on a difficult bass part that lifts a basic punk rock song into a different category.  It only takes him a few takes and one punch in but a wise choice to allow him to concentrate and get the part down without worrying about messing up a bed trax take.
Vocals for me are always the most nerve racking.  You never know what you have for an instrument on any given day.  As well two days previously my two youngest showed up with croaky voices and colds and I'm thinking – great all that I need.  So like most paranoid people I dose some cold effects, tea and honey and start drinking water and a bit of my magic Chinese herbal throat medicine to clear any fog that my be accumulating on the vocal chords.  The first day is good.  I make fairly short work of "Not from this town", "I like to get high" and "Joyful bits".  A second issue is I tend to write lyrics but through the course of playing a song live the phrasing and some smaller words are dropped or added.  So going into the recording I did go through all my written words and made corrections to be closer to what I actually sing now form when it was originally written.  This is key as although I know the lyrics its good to have a reinforcement of the actual lyrics if I blank on a line or during recording I don't like how something is sounding.  Most importantly in a recording you often double a vocal.  What this means is you sing the part and then you re-sing (or double) with the exact same phrasing, pitch and words.  So if your off it sound jumbled.  Fortunately I have done that on a number of occasions so my brain is good at being able to accomplish this in a timely fashion.  This does mean however that you sing a song through, you do that a couple of times and then get a good take.  Occasionally you will need to go back and correct a line here or there where you tripped over a word and said the wrong line or word.  Then you do that all again and double the exact thing that you just sang.  Again and usually during doubling you have to perfect certain lines that you didn't exactly match with the phrasing or the note.  And some times you even triple a section.  After that there is the back ups or harmonies.  Again there is getting the good take, correct note, right phrasing and then matching it perfectly when doubled or tripled.  Another point is that if you sing one section quieter like the verse and push or sing stronger on the chorus they may need to have you do that on two separate tracks so the mic level is correct on each.  So here you sing the verse and then they take you to the next verse.  At times is can be confusing to where you are in the song and when the singing part comes in as they may only give you two bars or 1 1/2 bars of the music before your section is in and ready to go.
Again I've done this a bit so I am a bit more adapt at it then most people as far as being able to do it in an efficient manner.  So from 5:30 pm to 10 pm I did all five songs that we had recorded that day.  Leg on my shoulder had two higher harmony parts.  All vocals were doubled or tripled except for a small section on "music whores".  "I like to get high" has a very high singing section in the chorus where I need to belt it out and then triple and occurs four times with a double chorus at the end.  My point that I come back to is I find vocals the most nervous part of the recording process.  I worry that perhaps my voice will not respond, nobody really likes the sound of their own voice (ha!), and you get to listen in high fidelity every perceived imperfection.   Finally, will I be able to hit the note, hold the note and will my voice become raw and raged and be useless for the rest of the recording.  Thankfully on day one it was not the case.  Five down and twelve to go.
We leave the studio around 10:30 pm once Ian has locked up and the area is a complete zoo.  People everywhere, cops everywhere, cars everywhere.  To back out of our parking spot takes five minutes as drunken people don't really care about traffic safety.  The road has a line up of cars and just to make a turn at the end of it is another five minutes and several other police cruisers, paddy wagons and a police command center.  The Lakeshore is moving at a snails pace and by the time we get to Ian's apartment over in Parkdale to drop him it's well over an hour.  Caden has been whining about more food- did I mention teenagers are never full.  Since the trip over to Ian's took so long I want to get onto the highway home.  We hit a drive thru at Tim's and get some wraps (not my favorite place to get a late night bite).  We don't arrive home until 12:30 am then to bed so we can wake up at 8:30 am and head down for a 11 am start the next day.
Day 2
Caden's always the hardest to get up but we get off shortly after 9:30 am.  It's sunny and it's already in the mid to high 20's.  After a Starbucks stop and gassing up we are on the road.  Traffic is way lighter and we get there by 10:40 am just as Ian's pulling up in a cab.  We settle into the studio and start on what could be one of the toughest of the day.  The drum beat is very syncopated and at time Jared's bass line can through Caden off.  Again we decide to do the bed with just drums and guitar.  As predicted it does take a number of takes to get it down for Caden with him losing the beat.  In your head after four or five missed takes it starts to play on your mind.  Now your hoping to just get through the song.  But getting through the song doesn't make it a good take.  Four or five more takes later and we finally get a good one.  Much to our surprise when we go to listen, Jared has the Studio Ricky and is plugged straight into the board.  The round wound strings and the warmth of the board sound actually lends itself well to the overall sound of the song.  Since he has the start of a good take, Jared finishes off his bass track.  Later that day we add the choruses using his bass rig sound.  Wow it's nice to have that one out of the way.
Already the live room is getting a bit stuffy.  It's in the thirties by mid day and with the amps giving off heat, a windowless room we are all soaked and down to wearing just our shorts.  The other difficulty here is your hands start to slip on the strings and your pick begins to slip not to mention just uncomfortable.  The next song is "Pot Stinks".  This is a fairly straight forward blues progression rock song.  The difficult part is that it does center around the lyrics for the tops and starts of the song.  And this is where the difficulty begins with three people trying to get a good take at the same time.  Caden is having difficulty nailing the stops and starts without the vocal cues and then after numerous takes we all start making our own mistakes as mentally we start to drift.  After about the fifteenth attempt Caden is done with the song and needs a break.  Can we go on?  No we need to get it down, we can, lets do this.  I decide I shout out the lyrics during the break so he can here the timing and we nail a take.  We go into listen and Ian says, no the timing is off you'll need to do it again.  You sure- FUCK!  We go in and do a few more takes, we all hate the song by now- ha!  But finally after about four more Ian come in and says – that one was good.  Thanks the lord.  An hour playing the same song over and over.  The room is really hot.  Thankfully the next song is 'music whores" which is very straight forward.
"Music whores" is a surf garage sounding song.  In a way it is a through back to our first album's sound but now with a more advanced technical skills on Jared and Caden's part. Ian's only note was for Caden to be less splashy on the cymbals during the driving part and more straight.  Speaking of cymbals Caden notice there was a small little crack in his Sabian crash, just a small hairline half centimeter.  Over the course of the four days of recording this expanded to a full 2 inch crack in the cymbal.  We were able to get a good take in a few passes of the song.  Jared would later add the coolest bass 6 solo over the middle part lifting the song from a basic garage rock songs and adding a '60 batman surf rock vibe to the whole middle.  It was a welcome relief to have a song go smoothly and quickly compared to the first two of the day.  The idea was to get six songs done today but the length of time on the first two has put us behind where we were yesterday even though we started two hours earlier.  In the big picture, you need to get a good take, a good bed trax and there is no time limit on that.
We do Expectation which a shorter song, slightly over a minute and a half.  And at this point Jared is making a few mistakes.  The heat, slippery fingers and mental fatigue are factors.  We do get the song but in a few more takes then we thought it would take.  At this point we figure we'll get "My baby is a go-go girl" and then break for dinner and catch "I'm addicted to her" after that.
"My baby is a go-go girl" fortunately is a song we have played together for a while.  So much so that we had not been playing it much as we were working on newer tunes to perfect them.  After a few takes to shake the rust of the song we do a couple more but mental mistakes are creeping in, forgetting where we are in a song, switching to a wrong chord.  It's getting close to 5 pm and we've been playing since 11:30 am.  The room is really hot and stuffy, we're all shirtless and down to wearing our shorts.  Caden has remembered his towel but it's already wet from the days work.  We do get a good take but again it has taken us a bit longer then we thought it would.
After that one- we need a break.  We need to get out of that room and get some dinner.  But 10 songs (bedtrax) in the can and another 5 sung.  Pretty good.  There was some testy times but all of us have kept a positive perspective.
So off to get some dinner.  Noodles for Jared and me and Sushi for Caden (not to mention another 6 cherry cokes, cookie and some goldfish earlier).  I unwisely also opt for some sweet and sour pork that was a tad greasy and felt heavy after I only ate a bit.
The street has a steady stream of people heading down to the nightclub and a cruise boat that is docked.  The day is hot and muggy and there is also a number of street vendors selling food.
Back at the studio, Ian thinks its best we start getting the guitars down on these ten songs.  Here's where Ian shines in regards to sounds, parts and over all production of a song.  For the first album, it was basically me doing a demo/recording that once we finished it captured a cool document of a band and player in their infancy.  Caden and Jared seven months from beginning to play creating a raw garage rock sound.  The takes were all live off the floor with minimal over dubs (guitar was doubled).  It sounded very cool so we put it out as an album.  We would do a few takes of a song and was great next.  We recorded nine songs in one day- like a rehearsal or in the basement and mixed the next.  The second album Caden and Jared had advanced playing wise so Ian pushed us more to get a good take.  We did is over three days bed tracks and overdubs.  But besides him suggesting a vocal part during a chorus on "Please" , Ian was again pretty hands off.  We did the beds with a PSR Gibson sound and all the second guitar was a telecaster deluxe. Even there I just doubled what I strummed on the bed take.  The sound is a seventies punk rock record.  Very dense sounding.
On this one I just followed what Ian said on the over dubs.  What guitar do you want? I used my black Les Paul on all the bed tracks and it ended up being the most used for overdubs as well.  Sometimes we doubled the guitar straight up again.  Then it was Ian plugging in different peddles to get different sounds.  Special vintage distortion units, big muffs, wah wah distortion, tremolos, phase shifters.  Then there was parts where I would just hit the chord for the full section, or just play during an instrumental part before a verse or a chorus or a bridge.  There was individual ringing notes with tremolo during sections or a picking or harmony notes to the chords.  All the time I would play and Ian would push the buttons when effects came in or dial the pedal to a sound during the same take.
Each part you could here how aurally is built and created a sound that added to the song or made a part more distinct or when combined with the overall guitar just gave a unique or different sound to the guitar or that section.  Each part he would pick the pedal and then the guitar to go with it that added to the feel or sound he heard for that song.  The Les Paul for this one Rickenbacker for that one, the telecaster for yet another.  On my life story he tripled the riff that I played and then added that p[art to three different sections.  He added a harmony picking riff for me to play to enhance the riff.  He built density in certain sections but also space in other sections.  Where as the second album hit you with a dense sound that came in from the first chord all the way through, this album has space in the verses and built to choruses and instrumental parts.  It has haunting tremolo parts that sit in the mix and add another flavour to the song.  So to me the first album is a garage rock gem of a band in its infancy.  The second, a punk rock '70 old school classic.  This album is firmly rooted in heavy rock and roll.  There are elements of punk, garage, surf, heavy rock and straight up rock and roll.  Simply put, it's a rock album.  After the guitar session on day two, I could see and hear that.
The day ended and we headed home by heading east and catching the QEW at Carlaw and flying across to make it to Ian's place.  The streets was still chaotic around the studio with party goers.  We decide to bring the guitar amp, bass amp and bass drum home that we are not using as we brought down a couple other basses, Jared's keyboards and my tele guitar. If not there would not be room at the end of the session to fit everything in the vehicle.  As we pulled away a man leaned from the passenger side door of the car and repeatedly vomited.   After we dropped off Ian we stopped for a Burrito.  It was still really hot out even though it was close to 11pm.  The days and what I did started to blur after this point.  I got home and was exhausted, my ears were ringing, my arm sore from strumming for 18 hours over two days.  My fingertips already well callused on my left hand from playing were a bit raw and numb.  But my legs where tired from standing all day and I fell into bed and slept knowing day three would probably be the hardest.
Day 3
The first day of recording you are excited, a nervous energy that the day is finally here.  The second day your still buzzing from that excitement of day one and all you have accomplished.  No one should really do three 11 hours days in a row.  After the second day, all the playing and the guitar work- I was really spent.  Ironically, Caden was the hardest to get up on day three but he is also the one who would not have gone to bed on day two when we got home.  Since he was dragging it to get out in the morning and Jared is always the first up and ready to go, I suggested I go get a coffee and Caden would be ready by the time we swung back around.
On the drive over to Starbucks I said to Jared this day would be the hardest.  Sure we'd got 10 songs done and singing on five but we still had 7 more to go and so far we'd only gotten five done in one day.  As well we still needed to sing 12 songs, do the guitars on seven and add the little keyboard parts on a couple of tunes.  A lot of work for a day and a half of recording time remaining.  Add to that we've already done two 11 hours days in the studio in 30 degree heat.  Let's just get some good beds done and see where were at.  At worst well need to book another session down the road.  The idea is to make a good recording not a fast recording.
This however is the quandary of a self financed indie band who all work or go to school.  We picked a long weekend as we were all off for three day and would only need to book one more day of holidays.  Most weekend are when you play and there are other times when you need to book the odd day off.  So you need to book your time and make the most of it in an efficient manner.  To date we've been very good at this.
Even with the slightly latter start time on the road, the traffic is light and we get to the area at 10:50 am, we stop into the T&T grocery where we buy two monsters, 4 royal gala apples and a 1.5 liter water for me.  Jared buys himself some noodles for second breakfast.
We get to the studio shortly after 11 am and are rolling by 11:30 on "I'm addicted to you"  It takes a bit to get rolling and warmed up by we do get it down in a 1/2 hour to 45 minutes.  Again a few mental flubs from fatigue but the song is a good start. Even though I think Ian did edit the ending on another song onto it as we played it better.
A bit too heavy- A bit of a struggle.  Mostly with Caden on the break parts.  We did get it though and a solid take.
Silver Spoon is next and not one we have played much as a band.  Caden has finally mastered the trickier transition about 2/3 of the way through but it's Jared and myself that keeps making mistakes and necessitating another take.  After about an hour we finally get it down but again three songs in and my shirt is soaked and the room is hot and muggy.
Up is down was going to be a tough one for me.  We had decided before the recording that we would do it with just Caden and me as again Jared had a complicated bass line and I was prone to messing up my part as well.  After a few takes we did get it and I thought maybe we were on the downward side of the hill heading for the finish line.  Just three more songs.
"Has been never was" is a straight up song that proved to take a few takes to get down, but went fairly smoothly, again on the easier songs Jared had a few flubs but this was the heat and mental concentration of loosing where you are in a song because there are no words.  Caden on the other hand was concerned that the crack in his cymbal is growing and growing with each passing song.   All things considered we are being quite encouraging and forgiving of one another.
And then "Mile in their shoes" happened.  Take after take, flub after flub.  Myself, Jared and Caden.  We all took turns screwing this one up.  One time we did a great take and then in the final two stops I mix the order of the chords up of a song I've played for years and a good half hour by this point.  At one point we need to take a break as Caden is wearing out.  Then we do another good take only to discover my guitar is squealing a high pitch noise with every stop.  Ten takes later we don't even know if it's good.  Let's do it again we're all say looking at one another.  Finally after an hour and a half of playing the same song Ian comes in and says that last one was good.  We need a bit of a break.  But we're staring at the last one and again we know that we are going to do the bed with just me and Caden so Jared can concentrate on his part.  Quite frankly after Mile in their shoes I don't think we could do another multi take song session.
It's closing in on 5 pm and we've been doing beds for five and a half hours.  But I'm hoping to dig deep and finish this song.  Caden you know we can do this.  Looking forward.  We rip off two spirited takes and with the exception of a crash at the very ending the second is solid.  So we record the ending three times and Ian edits it on the end of the second take.  FINISHED THE BEDS.
I don't remember what we had for dinner.  I don't remember walking to the supermarkets.  Wait I didn't, we did Jared's bass tracks and then I started doing vocals.  The boys left and bought some sushi and then they brought some back for me. I was drinking a lot of water and every third song I would take a mouthful of my Chinese throat medicine.
My memory is of doing the last three songs of the evening because that's where I could feel myself hitting the wall both physically and vocally.  But in actual fact I sang five other songs before that in the 3 hours before.  "Life in a van" I do a solid take of a song I've sung for a while and then double and triple the parts.  "Pot Stinks" Ian gets a cool vocal sound and I rip through it in one or two takes- that one we don't double and only have to correct one or two lines with punch in's.
"Music Whores" I double the vocal on the faster musical parts but use the slap back vocal sound on the intro of each verse.  Jared make his second vocal contribution on the "Music whore" line where as Caden opts not to.
"Expectation" is a tougher one as my singing is softer and its harder to control pitch and sing "pretty" when your voice is tired and been roughed up from what is now the third 11 hour day (longer if you include the drive there and home).  I also need to add a higher harmony on the break part and double the vocal.
My baby is a go-go girl is another one I've sung for a while so it's easy for me to hit the notes.  The issue is Ian thinks I need to sing the bridge harder and higher.  I'm not sure my voice is there without cracking or giving out.  Damn it is there! And of course double it.  I think I eat dinner during this song or maybe the one before.  I do know I've almost finished a liter and half of water and I need to take a few pee breaks.
'I'm addicted to her", this is the bed we started the day with and it means I still have seven beds to sing on.  I settle into the verses which are soft and close to the mic and then on another track I do a double of the growly chorus then into the hard closing lines.  I do three or four takes but I know my voice is starting to go.  But I got the song down.
A bit too heavy- This one is the rancheros vocal on the album.  Sure lets rip this one out.  I'll have no voice after but lets get it done.  It's 9:50.  I rip the vocal off and correct a couple lines with a punch in.  Then I double the take and then triple the chorus.  I don't know maybe I did.  It's a good take and my vocal chords are up for the challenge just don't have me sing pretty or high. Oh we have time for one more and it's probably the highest and I need to sing soft and pretty in one section.
Silver Spoon- I get the verses and the bridge done but my voice is too shot to do the high parts of the chorus.
The nights over.  There isn't much traffic so we get over to Ian's apartment easily to drop him off.  Like I said I can't remember if we ate the burrito this night or the night before. Caden usually make me stop somewhere for food.  I just want to get home to bed.  I don't want to talk and I continue to drink water.  The plan is we'll start on the guitars, then either do the keyboards or finish the vocals tomorrow.  Let's just get home- oh just let me drive through a monsoon type blinding rain just north of Brampton.  Just let me fall into bed or look I fall right asleep.
Day 4
Okay we've got to do all the guitars on seven songs, finish singing four and a half songs and do some little keyboard parts on five songs I think.  Plus tear down all our gear and load the vehicle for home.  More than likely we wouldn't get done but we could try our best to get the best takes on what we were doing and see how far we could get to the finish line.  In actual fact the first five songs were what we where releasing and they were already all done and just needed to be mixed.  The rest could be done over the next year or several months for that matter.  I mentioned this to Jared as we left to grab a coffee swinging back to get Caden after we did that.  It was our latest start getting out of the house as frankly-yes- I was exhausted.  We hit the road and unfortunately with the long weekend being over encountered traffic on the 410 and the QEW.  We arrived at the studio at 11:20 am but even Ian wasn't there yet and arrived a few minutes later.  He too having encountered Toronto traffic.
But not even 15 minutes latter my amp was fired up and I had tuned my guitar and was doubling up the guitar on "I'm addicted to her".  Again with my trusty Les Paul.  We did a few more guitar filling full chord tracks and moved onto "A bit too heavy".  Here we added a bit more guitars and employed more pedal magic from Ian.
At this point Ian had me use the Studio sunburst 1974 Les Paul and it had a wonderful long sustaining ring.  We added the second guitar on Silver Spoon and also added a picking harmony part to the chords.  I exited to use the bathroom and when I returned Jar4ed was adding a different picking harmony part to the first one.  We then switched over to my Tele Deluxe for the final guitar on this song.
On "Up is Down" we again used the starburst Les Paul to fill it out. And then on the next three songs, "Has been-never was", "Mile in their shoes" and "Looking forward",  alternated between the Starburst Les Paul and the Tele Deluxe.  With only the Tele Deluxe being used on "Looking forward".   I made pretty short work of the guitar work.
We set up the keyboard but moved to vocals instead with only a few hours left in the half day.  My voice did feel okay and I made short work of "up is down" doubling the take and only needing to do a few corrections.  "Has been never was" also went smoothly with just the phasing of the last two lines in the verse posing some issues and then getting the higher harmony during the break.
Mile in my shoes I did a few passes with Ian suggesting I not sing the chorus with any growl to the vocals.  We corrected that and doubled the vocals.
"Looking forward" I spent a bit of time between the verses and the choruses and ensured I got a good take and that the doubling was spot on in the choruses.  The intro and outro being  the two sections I struggled with the most.
Then I went back to "Silver Spoon" and again my voice was not there to do the high chorus singing.  I could get the last word but was forcing/pushing the vocal so hard to hit the notes that it was shredding my voice out. I needed to relax into the notes for me to hit them but I couldn't get my mind to do that.  The more attempts the farther away I got.  I sang it lower and doubled it and then tried again to add a higher part on top but could only hit the note on the last word and it sounded odd a vocal part.  Ian and Jared thought was holding onto a part that didn't work but I had this sound of it in my head.  I moved onto adding a higher part before the bridge and at the end of the song.  Ironically just as high as the part I couldn't get on the chorus and I was able to nail it and double it.  So I understood a bit of missing the previous part was just a mental block of trying too hard to hit the notes.  Best to move on.
Unfortunately it was also after 6:30 pm and the half day session was over. The keyboard parts would need to wait until Sept.9th that I booked, (and another attempt at the higher harmony on silver spoon or a ringer to do that part- hehehe)
But there you have it.  Seventeen songs all done, guitars, singing. overdubs in three and a half days.  We packed up and headed over to The Cameron and had Rachel Delph do our silhouettes for her art project.  Frank Nevada was there and it was always nice to have a chat with Frank.  Then we headed across the street to Burger Priest although I'd have preferred the Roti place.  Then drove home and unloaded the guitars and keyboards and the drums.
So the question is, did you have a great time?  I love recording.  I love capturing our songs.  I love playing with my two boys and in this band.  But recording is a bit of a nervous endeavour.  It's a tight wire of paying for studio time but not wanting to rush.  Wanting to get a good take but not wanting to spin your wheels.  Wanting to capture a great recording of your song but being nervous about all the factors that can play against it.  Mental blocks, the band getting irritated or tense trying to get a take, your vocal chords not being in top form for that day.  The fatigue of doing so much in such a short time.  It is mentally and physically exhausting.  It is fantastically rewarding but you feel spent after a day doing guitars, doing beds, doing vocals.  In a perfect world I would do this over a longer period of time with more rest in between different sessions.  In future I will not do 17 songs in such a short period of time.  It sounds fantastic but was it a "wonderful" time?  It kind of hard work.  Or as Jared said last night, "Yeah great recording, great experience, remind me never to do that again."
**this was written the day after these four days occurred and is coloured somewhat by the residual fatigue of the whole experience.
July 19/18
http://someoldpicturesitook.blogspot.com/…/…/four-years.html
April 20/18
Smoke 'em if ya got 'em- 420!.  So lining up some shows for May- June- July.  Have a few more we need to confirm but this is what we got so far..
Tuesday May 8th- Bovine Sex Cub – Toronto as part of CMW (our sets at 12 am)
Thurs. May 10th- Foxxe Lounge – Barrie
Sat. June 2- The Altered Native- Orangeville- outdoor show 1pm to 4pm (all ages)
Thurs. June 7- This Ain't Hollywood- Hamilton 9pm door
Sat. June 23- Crockstock- Bewdley (private show-just ask) all ages 6pm
Fri. July 6th- The Geekery Pub- Niagara Falls 8 pm doors all ages
Sat. July 7th-  Duffy's Tavern- Toronto 9pm door
As well in May we are heading into our friend Drew Atkin's home studio to record some demos.  This month has seen us practicing up those tunes and then we developed an over ambitious plan.  The album will be sixteen songs however is will be released as three separate EP's of five, six and five songs respectfully.  Together they will be the musical backbone of a "Punk Rock Opera"- called "Sound Check and Fury".  Each EP will be one act of the three act punk rock opera and will include a booklet with the accompanying dialogue (story) to the punk rock opera.  Here's the tentative song listings and EP's as currently planned:
Act 1
Not from this town
I like to get high
Joyful bits
My life story
Leg on my shoulder
Act 2
Life in a van
Pot Stinks
Music whores
Expectations
My baby is a go-go girl
I'm Addicted to her
Act 3
Thoughts and prayers
Up is down
Has been never was
Mile in their shoes
Looking forward
The first EP, Sound Check and Fury- Act 1, will be released hopefully in early spring of next year, the second, Act 2, in the summer and the third, Act 3, in later fall.  We will look to record the beds to these tunes in August of this year at Ian Blurton's Pro Gold Studios but are still working out dates that work for the both of us.  Then work to mix and master the various "Acts/EP's" after that point as well as the accompanying written stage play.  Well that's quite a bit of news.  Drop us a line at the website or
thediscarded16@gmail.com
better yet pick up our excellent new release Manifesto at
https://thediscarded1.bandcamp.com/
April 3/18
Ten shows in just over a month.  Wow- that was fun and a bit exhausting at times.  Thanks to all the people, clubs, bands, promoters, booking agents that helped us along the way, saw the shows and gave us a kind word.
Next up we will be demoing songs for the next album in May and perfecting them this month.  Most we have been playing for the last year and a bit.  But it seems we tend to write a new one every couple of weeks.  So we tend to be an album ahead of what we need.
at this point here is a list of songs that we are considering:
My life story
Joyful bits
My baby is a go-go girl
I'm addicted to her
Leg on my shoulders
I like to get high
Pot stinks
Life in a van
Music whores
Up is down
Generic BS
Thoughts and prayers
Mile in their shoes
Looking forward
Out of the ones here, there might be a couple we add in and a few we bump to the next album.  Eleven of the songs we have already played live with a few being included in every set.
Playing between ten to fifteen songs per set and having two albums already out it is at the point where it is getting difficult to play all the songs we like to play.  Since we just release Manifesto our sets during this last tour were/are heavy on the songs from this album- a couple from the first album- and a few new ones (My life story-I get high and Looking forward were included most nights if not all)
We'll be back out on the road in May and June playing some shows and then hopefully be in the studio again this summer- (just finalizing a date for this)
Few highlights of the tours were- the record release at Duggan's- opening for Lowest of the Low- playing for two hours straight in Guelph.
All the best JP
March 19,2018
Toxic Reasons
I don't want to wear your jacket, I won't fit into your mold
I'm going to reach my own conclusion, I won't do what I am told
Chorus:
I don't believe your toxic reasons
I won't swallow your bitter pill
Wrapped in a flag you're screaming treason
The medicine you feed me is making me ill
Your motivation is only profit, don't make me out to be a fool
You're gonna crush all who try to stop it because I won't be your corporate tool
Chorus
Bridge:
The media says jump, you control how high
Concoct a story from your lies
Fall in line the rich man screams
I won't be a part of your artificial dream
Chorus
I like to keep my eyes wide open, I don't accept the things that I hear
I don't believe your misinformation, I see the future, it's bright and clear
Chorus 2x
March 14, 2018
As promised here is a collection of some links to various interviews over the last month or so:
Canadianbeats- five questions
http://canadianbeats.ca/2018/02/03/five-questions-with-the-discarded-2/
Punkanormal Activity- Janitor Joe Release
http://www.punkanormalactivity.com/2018/02/23/premiere-discarded-janitor-joe/
Spill Magazine- record release review
http://spillmagazine.com/spill-live-review-discarded-duggans-brewery-toronto/
Canadianbeats review:
http://canadianbeats.ca/2018/02/24/review-the-discarded/
The Littlest Voice:
https://www.thelittlestvoice.com/single-post/2017/02/15/Band-Feature-The-Discarded
Spill Magazine- Track of the Day
http://spillmagazine.com/spill-track-day-discarded-want-now/
Exclaim Magazine:
https://exclaim.ca/music/article/toronto_trio_the_discarded_take_manifesto_on_tour
Do you want it now? Video
https://www.youtube.com/watch?v=3Z6-iZBFou8&sns=fb
Punkanormal Activity
http://www.punkanormalactivity.com/2018/02/01/intergenerational-gold-interview-discarded/
The Punk Show on The Zone 93.1
https://www.mixcloud.com/wrathoflamb/joel-from-the-discarded-full-interview-020818/
Janitor Joe Video:
https://www.youtube.com/watch?v=_7915rmScZs
The Cornwall Seeker:
http://theseeker.ca/interview-the-discarded/29991/
Punk Zine:
https://www.withinpunkzine.com/single-post/2018/02/21/Within-Punk-Zine-catches-up-The-Discarded-to-talk-about-their-upcoming-release-titled-Manifesto
March 12, 2018
Been a busy month so far.  The record release was Feb.24th at Duggan's and was again a great time.  Good crowd- good people and a fun show and place to play.  Seems we have retired the coloured shirts and black ties and now we have our black "Dickies" shirts with our logo on the sleeve.  A little more breathing room for rocking out the new tunes.
Big shout out to AM/FM promotions, Melanie Kaye promotions for all their work during this time. We've been busy with interviews and podcasts for radio and various 'zines.  I linked some in the last blog but will try to collect them all together for those of you interested in taking a look.
Most common question:  "What's it like being in a band with your kids/dad?"
Least common question: "Tell me about the songs on the album?"
We get it- that is an interesting angle but as Jared observed- "For being the music industry, they sure don't talk a lot about your music"
Having said all that, the interviews have been quite enjoyable and there are quite good the questions we are being asked about how the band developed and the recording of this album.
Funny enough, the busier we get the more excited we all get about the band.  I can truly say we love playing live the most and enjoyed after the two month break getting to do that.  Even on the few days off we are jamming and writing new tunes.  And for a record release tour we are even including a few new ones per set as well.
Second big shout out is to "The Lowest of the Low".  I'd set the album to Ron Hawkins just to show him what I've been up to (we know each other from "back in the day").  Ron liked what we were doing and put us on three shows opening for them this past Mar.1-2-3.  It's great that an established band still takes an interest in controlling who opens for them and also in giving the exposure to a new band.  But really it goes beyond that as well.  They are a great example to us on what it means to be a band.  They were kind and respectful to us, their dressing room and the members of the band was open and unpretentious, where it was easy to talk and you did not feel like an outsider.  They came out and watched us play a bit each night showing to their audience that they supported our band.  They gave a shout out each night to us and promoted our record.  Finally, they put on a killer show each night and up close we got to see a band with a devoted following giving it back to their fans as they sang along.  Afterwards they met their fans and posed for pictures and signed whatever they wanted.  All around a class act and a great example of what DIY and caring means.
Well here we are mid March and we have a further six shows to round out this Southern Ontario tour, March 15th in Peterborough, March 16th in Niagara Falls and  March 17th back in Toronto for St. Paddy's day.  Then we finish off the tour with Guelph Mar.23, Hamilton Mar.25 and finally a hometown show in Orangeville Mar.29th.
Thanks to all our friends for their support and hopefully we pick up a few new friend over the next few weeks- months.
Have you picked up the new album yet?  – If not here's the link:
https://thediscarded1.bandcamp.com/
Or you can contact us through here to get some limited addition vinyl-CD or other cool merch!
Cheers JP
February 5, 2018
A little press:
https://exclaim.ca/music/article/toronto_trio_the_discarded_take_manifesto_on_tour
check out a few of these cool links and our premiere video for the album
February 3, 2018
New Vinyl Arrived Today! Pick it up at the record release Feb. 24, 2018 or at fine record stores.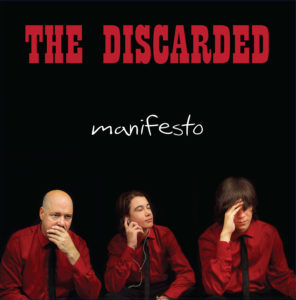 January 24, 2018
Wow, things are happening fast- or so it seems on the lead up to a release and a tour in March.  Seems each day there is something that needs to get done.  CD's are here, buttons, stickers, t-shirts- need to order the hoodies.  Vinyl is next week and checking up on the on-line digital download.  And we filmed and edited two video in the last month to go with the album.  The record has gone out to college radio across Canada and will be tracked. Our goal with this album is we would like to see it chart  on stations and nationally.  Finally we are just prepping for the record to go to the various media.  At that time we will release the videos.  It is our hope as a band that we will get a track by track review of the music this time.  It's cool when they even mention the band and what we sort of sound like and the story about the band.  This record we are really proud of the music and words that we created and would be cool to hear insights into that by an outside source.
Most importantly, there has been a lot work putting together a southern Ontario tour in March/April to support the release of the album which see's us playing from  Niagara Falls over to Ottawa.  The band is very excited to open two shows for The Lowest of the Low and a big thank you to them for their support the "little guys" like us who are looking play in new cities to crowds that haven't seen us yet.  It speaks volumes to what they are about in regard to giving back and nurturing new music and bands.  There has been a lot of great people so far who have already stepped up and assisted in getting us to this point.  Once again in the making of the album – Ian Blurton and Pro Gold Studio was where it was recorded this past August.  Ian was once again fantastic to work with.  And he gave us the push we needed to not just settle and get that killer take.  Secondly the sounds and mixing of the album are second to none.  The man knows how to capture the sound we are looking for.  Big, full RAWK with all the distinct parts sounding great.  Finally the mix makes it all hang together as one sound.  Joao Carvalho is one of the top mastering guys in all of Canada and with a Grammy nod this year, I'm not pushing it by saying perhaps the world.  Both those guys make it a pleasure to make records and to deal with.  Rick McGinnis once again graced us with his photography of the band and Rachael Muir as well returned to create a great looking album using Rick's photos.
Now we enter into the release of the album and we are partnering with Andrea Morris of AM to FM promotions on radio tracking and Melanie Kaye on PR.  Cory Buryea lent his expertise in shooting and editing the two videos I'd written.  There is still many more people from bookers and promoter or just people who are noticing what we are doing and saying encouraging words to the band or a little word into someone else's ear that gets a ball rolling or a door to cracked open slightly.
Our expectation as a band is modest and we hope to build a bit more on every release.  We strive to keep working hard, playing the best shows we can, writing new cool songs and keeping our feet planted firmly on the ground.  There are a number of good people who make and promote music and we are enjoying this journey together as a band and as a family.  Hopefully those we interact with will also catch a little of the joy we're feeling doing this and together we can enjoy some positive times and exciting energetic Discarded music.  Cheers- JP
January 4, 2018
Okay- two more months have flown by and the decision has been made to release Manifesto- in February, 2018.  On board for promotion is Melanie Kaye for media and for Radio Andrea Morris of AM/FM promotions.
One year to the day we will return to Duggan's  Basement (Feb.24,2018) for an album release show.  After which point we are finalizing around eight shows across southern Ontario for March as well.  December also say us shoot two video and put the finishing touches on getting both vinyl, CD and merchandise for the new album.
We played two shows in December and round out 2017 with eighteen shows over the year.  2018 we hope to better that total and hopefully see a  break through into some opening slots for some higher profile bands.
A shout out to Rick McGinnis for his fine photography and Rachael Muir putting the whole album design together once again.  Finally Ian Blurton for an excellent sounding album and now Grammy nominated Joao Carvalho for the mastering.  This is the best sounding album I've ever made in my life and regardless of what it does – I'm extremely proud of the songs and Jared and Caden playing on this record.
In another week I'll release where we're playing but until that point it's running around and telephone calls.  Doing all we can do to get this album heard.  Stay tuned.
Special thanks to Steve McLean for including our album on his year end list and three of our live shows.  As well The Littlest Voice for their year end as top article- it really is a great article of the boys talking and joking about the first album and that time period.
Also quite exciting that over the year people have started to take notice of the band and are liking what they are seeing and hearing.  The rigorous playing and practicing has molded us into a tight unit that can deliver a powerful rock show.  It the bet part of all this- making music with my boys.
To quote 13 Engines- "Lord I often wonder I hear voices telling me these are the times of our lives!"
– J.P.
November 8, 2017
So here we are a month from the last time I wrote.  The mastering of the new record is done and on facebook you can check out the amazing new cover photo by Rick McGinnis and the mock up of the cover design by the talented Rachael Muir.  We did a really fun show in Kingston at the end of September and Jared has started to get comfortable on stage.  Since I'm locked to microphone and Caden to the drums, he's enjoying himself and moving about the stage.  He's also started writing his first couple of songs for the band musically.  Great riff songs with a tad of complexity, to keep his dad on his toes, as he grows musically.
It seems like deja vu as this time last year I was prepping the last album for manufacture and release.  This one, Manifesto, we will be a bit longer before it's released later this spring or early summer.  What is important at this point is putting together a marketing plan for this one.  I said it before- no band is an island and we rely on the expertise of others .  You make the music, record it, play the shows but the getting the album out, reviewed, played and listened to is beyond the skill set most bands have.  I guess you can put an album out but then it's- hey look what we made!  Sort of like a dog barking on the porch, it's just noise and soon everyone hopes it stops barking.  Nor does anyone pay much attention to the barking dog. 
So as a band, we are extremely proud of of the songs and the recording.  We also think it's one sharp photo and cover.  So yes, we do want people to listen to it.  We do want people to enjoy our music and we want it to be outside of just the circle of friend and acquaintances.  We are extremely please with the reception of the first album, all the shows and acceptance we received this year. It truly went beyond our expectation of what we thought it would be.  We also know that each album builds on what was done with the last one.  This is true both musically also as far as the growth of the band and public perception.  We are looking to take a greater step with this next record next year. 
Having said all that we are closing the year out with a show at the Baby G in Toronto on Saturday December 16.  We want to thank everyone for the great year and showcase the upcoming tunes from the new album and even a few from the one after that.  Hope to see you there.  JP  
September 27, 2017
I feel like a bad friend who means to write but then notices weeks have past and I haven't.  House of Targ in Ottawa was great fun and we blew through Peterborough again the next night to play a quick show before we headed home to Orangeville.
Then we prepped hard for our recording at Ian Blurton's Pro Gold Studio. Ian was his excellent self once again and seeing the band had developed pushed us harder to get that best take and focused us on making one strong album instead of trying to record two albums worth of material.  Man did it ever pay off.  I know I'm supposed to say this I honestly feel these are the best songs I've ever written and Caden and Jared have transformed in top notch musicians.  Lyrically the songs touch heavily on social commentary in the world we are living in right now.  Really a summation of our or my world view at this moment.  Musically, Jared pushed me out of my comfort zone and challenged me to expand my playing and my song writing.  Rising to the challenge I surprised him with song after song over the last year until the point that we had two albums of material ready for the session.  Yeah- we literally have the songs for the third album.  But we stuck to the songs we have been playing and writing since the last album and we'll play these new songs over the next year to have them tight and stage/live tested and ready to record next year (more on them later).  As I write this, the album is being mastered at Joao Caravalo Mastering and the cover was shot by Rick McGinnis.  The album will be called Manifesto the track listing is as follows:
Toxic Reasons, 2. Janitor Joe, 3. 40-40-40, 4. Please, 5. President, 6. Do you want it now?, 7. Mango Mussolini, 8. We Resist, 9. The Trap, 10. I don't know what to believe.
The recording happened over two days this time.  We arrive around noon on Saturday, August 5th and set up.  We headed over to the grocery store and had some Chinese noodles and sushi for lunch as Ian mic'd up the drums and amps.  By 2:30 pm we had the sounds and were starting to lay down some beds.  It was drums, bass and guitar all at once with the Caden and Jared looking at me for silent vocal cues.  We rehearsed without any singing so this live off the floor with no vocals would not be strange or confusing to us.  By 6 pm we had about six of the ten songs completed and all four of us headed over to the Loblaws super store to get some food and snacks.  Returning an hour later, we finished off the last four beds.  With the time left in the day Jared corrected a couple of bass lines and did his overdubs on a couple of other songs.  We wrapped at around 10:30 pm-11 and headed for home.
August 6th, Sunday, we arrived again shortly after noon and began the day with guitar over dubs.  Now the day before my amp starting making a crackling sound (great!), so I switched over to using Ian's Marshall for the overdubs.  The second take of doubling the guitar on the first song and my pick up craps out as well.  (Ha-Murphy's law) Fortunately, the studio had a similar guitar with the same pick ups so I switched to that and Ian got a sweet guitar sound.  It was smooth sailing after that and I laid down two tracks per song to thicken the guitar sound up nicely.  I was able to get the guitar all done by dinner time with just one broken string that I needed to change.  After a short break for dinner we were back to do the vocals.
Now doing vocals for me can be a bit intimidating.  Unlike a guitar or another instrument that you tune and play, a voice can vary from day to day.  Fortunately, my voice was feeling good going into the session and I was making sure I was drinking a lot of water.  The second issue is even if it is feeling good a few raunchy vocal takes or if your too tense while singing and your can quickly tire or shoot the voice out. And once it's gone that day it doesn't come back without resting it for another day.  We did not have that luxury of another day. I would be attempting to sing ten tunes, double track most of the vocals and sings some back ups on a couple of songs as well.  Take the run throughs and mistakes and quite easily you are  singing thirty songs in a few hours.  Add to this you can't take it easy, this is the final take of your vocals for the album, so you have to go for it.
That's the back ground on singing vocals for me.  Fortunately I had been singing these songs for the better part of six months to a year and we had just played a bunch of live shows over the past few months.  I did get a cold in April and shot my voice out doing two shows coming off of laryngitis and foolishly growling/singing through that.  It took the better part of a month and a bit for the full range to return.   The last couple of months my voice was feeling strong.
I ordered the songs with me singing the higher range ones first, President, Janitor Joe and Do you want it now and ended with the raunchier ones last.  Here Ian was great for me.  When we hit the song "Please" he really liked how I belted it at the end and said I should be doing it for all the choruses.  So with his help I worked out the timing, phrasing and range.  He was so right and it took that song to a whole new level.  Funny thing was I needed to listen to the recording to get that down for the next live show.  For me, your brain just needs to go to the note your singing and if you sang it another way for a long time it takes some reconditioning to make the new way the natural way you want to sing that song. His other suggestion was on "I don't know what to believe" to do the classic '70's punk rock call and response during the last chorus and again it transformed the song and the choruses.  Plus capped the end of the song to a nice build.
Well, my voice held out and working quickly, I got through the all the vocals in just over a couple of hours.  The boys came in and added- "Lock them up!" on "We resist".  Again by 10 pm we were done, packed up and headed for home with everything completed and ready to mix.
The next day we ventured down to Rick McGinnis house and did a photo shoot in our red shirts and black ties for new band promo shots and shots for an album cover idea.
Ian was busy with Public Animal shows and a Change of Heart Smile reunion shows but worked on the mixes and had them to us by mid September.  We did a show a week later in August at the Horseshoe and another at a very cool venue in Barrie called the Mavericks in September with some fine bands and 53rd and 3rd productions, Phil Heels putting on the show.   This weekend coming up were back in Kingston for a return show at a bar called Overtime on a punk bill.
Lastly, finally got two video cut together from some footage we filmed at our record release back in February, for "Could that be you" and "Time Bomb Heart" plus we did a little one minute sampler of "Feel the glow" from footage from House of Targ.  You can check that all out on The Discarded- youtube channel.
So like with most old friends you haven't talked to in a while- I guess I rambled on.  What's up next?  We hope to do a couple of things.  Putting together a comic book of our past years photos with a little story about what we have done.  We hope to make two more cheap videos of two songs off the latest record and finish up the album artwork for the second record.  Then start planning for that release.  This website also needs to be updated, and book more shows and write more songs and practice the 10 new ones and keep the other twenty tunes from the first two records sharp and just try and keep going with all that needs to be done.  Most of all- where still having a lot of fun with this. —JP
July 1, 2017
Yeah we're a Canadian Band!  Been a month and a bit since since I last wrote and that mostly has to do with the fact that we've been playing a lot!  Hamilton, Orangeville, Toronto, Peterborough, Kingston, Crock Stock, with Ottawa, Peterborough (again) in the coming week.  Sort of a mini southern Ontario tour done mostly on weekends over May and June.  And nothing like playing live to get the new tunes in shape for the follow up recording slated for August 5,6,7 at Pro Gold Studio with Ian Blurton.  Here's the thing- we have two albums worth of new material ready to go.  The album we are going to record has some very pointed lyrics on what we think and the state of the world.  Really it is our "Manifesto" on  what we think and believe.  So the tracks for that are:
Do you want it now?
Toxic Reasons
Janitor Joe
40-40-40
Please
President
Mango Mussolini
We Resist
The Trap
I don't know what to believe
The second is a loosely based mini concept/punk rock opera about the rise and fall of a relationship of a flawed urban poor musician and his trust fund girlfriend, called "Sound check and fury"
My baby is a go-go girl
Leg on his shoulder
Down is up
Silver spoon
Pot stinks
Expectations
Generic bullshit
Music whores
Bubblegum
Mile in their shoes
One foot out the door
The idea is to finish "Manifesto" and release by spring/summer of next year.
Then determine the timing for "Sound check and fury" half a year later.
We are really proud of the songs we have written both musically and lyrically and can't wait to have people hear them.  They already make up a good part of our live set so if you've seen us live you have probably heard a couple of them.  Playing live so much has really brought the band to a new level.  A year ago we were playing Canada day our third show ever and we're very much in our infancy as a band.  The first album was a great slice of us starting out- garage and raw. This will show the unit we have gelled into.  Happy Canada Day- we are a Canadian band!
May 11, 2017
PREMIERE: The Discarded Release New Single "Could That Be You"
May 9, 2017
Alright – "Could that be you" is now out and circulating beyond the Canadian borders. Let hope it help build things just that little bit more on who has heard of the band.  Well we start on our two months of shows and here they are:
Hamilton:  Sunday May 14th- This ain't Hollywood opening for the Isotopes 8pm
Orangeville:  Saturday June 3- Orangeville blues fest- Broadway and First 1-5 pm with Big Black Dog
Toronto:  Saturday June 10- Club dB (Duggan's Basement) with The Trespassers and Ethel and the Mermen 8 pm (all ages with wrist band)
Peterborough:  Thursday, June 15- The Red Dog with The Trespassers 9 pm show
Kingston:  Friday, June 16- The Mansion with The Burning Sensations 9 pm show
Crock Stock: Saturday June 17- with The Trespassers and many special guest and bands (shhhh….we are not allowed to say- but I will be enjoying the Punching Nuns!)- were on around 6pm
Ottawa:  Thursday, July 6- House of Targ with Slim and Popular and special guests 9pm
Peterborough: Friday, July 7- The Spill
Then it's back into Pro gold with Ian Blurton to record our second album August 5-6-7
There you have it.  A jam packed summer about to begin.  Come on out and enjoy a rocking show with good people and good times.  JP
April 28, 2017
Wow- how quickly a month goes.  Seems like just last month we were about to play the Danforth- oh yeah we did.  That was a great show and fantastic feedback form that set.  Then we did a show in Orangeville at The Barley Vine.  The day started off with a snow storm and I had a cold and couldn't speak the day before.   So I was a bit worried but it warmed up and I took every cold medicine know to man to get most of my voice back.  I couldn't talk much but I could raunch it just fine for our punk garage sound.
The next night was at the Velvet Underground in Toronto which was a great stage and a fun night for us playing together.  The thing is, typically you can do a show and it will be good but some stages and nights it just comes together and seems like an really enjoyable time between the band members playing together.  Other nights, you can break a string or the sound is funny on stage or in the room, so your playing fine but it just seems there are other distractions. That night the sound was great and the dynamics on stage was really good.
The next day we headed into a friends studio to cut some demos of songs that will make up our next album.  We did nine songs in three hours and got home and realized we hadn't cut the tenth song called- the Trap even though we had played it over the last two nights.
Well, it's been hectic since January with shows and record releases.  May 2, 2017 we will be releasing a single in the European market, (Could that be you), off the record.  Hopefully we will get some notice and continue to build recognition in another area of the world.  After that we have a bunch of shows in June and July and the summer should see us going back into the studio to record the next album.
The idea is we will look to release it next July.  As of now the songs are:
Do you want it now
Toxic Reasons
Janitor Joe
We resist
Mango Mussolini
40-40-40
Please
President
The Trap
I don't know what to believe
Everyone in the band is pretty excited about these songs as they show a great advancement lyrically and musically for all of us.  They are some of the best songs I've ever written.  The first album captured the spark of us starting as a band.  This album should show the solid unit we have gelled into.
Cheers JP
April 3, 2017
A little press about the Orangeville show this Friday-
https://www.orangeville.com/whatson-story/7222990-orangeville-family-finds-its-way-through-music/
March 21, 2017
June is shaping up to be a busy one!  so far June 3, 10, 15,16,17, in Orangeville, Toronto, Peterborough, Kingston and the almighty Crock Stock!  looking to add Hamilton and Ottawa to the mix.
But next up- Danforth Music Hall opening for the Sonics.
JP
March 13, 2017
Wow it's March 13th already.  Seems we were getting ready for the record release and it's half a month later.
First off- opening for the legendary Sonics March 25 at the Danforth Music Hall.  To say we are excited would be an understatement.  One year ago we became a band and were prepping to cobble together five songs to play a private party April 3rd.  A year latter we have released our first album, have over twenty original songs that we know as a band and are opening a concert at a major venue in Toronto.
So Duggan's the record release was fantastic.  Great venue, great people.  Gord, Fred are stand up guys and a great first exposure to what people in music are supposed to be like.  We soundcheck and had a videographer shoot a couple of videos of us doing two songs off the album.  Go upstairs for dinner that was a tad delayed.  When we come back downstairs the place is packed.  The night goes of nicely.  Fantastic opening band Locomotive 8- nice people, good songs.  Then playing is a joy with a responsive crowd and good sound.  We return there for our own show June 10th with The Trespassers (my good friend-Crocky Teasdale's new band).
Besides the Danforth news busy following up on some shows around southern Ontario.  Hoping to organize Kingston, Peterborough, Hamilton, maybe Guelph.
We're already slated to play Orangevile April, 7 at the Barley vine Co. with the Jay Kipps Band.  Add to that #14 in Kamloops and few other adds across college radio- yeah!
Wrote another song called we resist which we already added to the set at the Danforth.  Will try and demo the songs a my friend Drew's place in April and schedule a follow up recording session at Ian Blurton's pro gold- this summer.
That's it for now- JP
February 23, 2017
Had a great family day together.  We indulged in a movie the night before- John Wick on Netflix.  Wow don't kill a hit man dog- it might piss them off.   It is a rare occurrence now where find all of us together on a couch watching a movie.
We all slept in to start the day.  "I have to thank music for inspiring me to start my day every afternoon!"  Breakfast was pancakes, eggs and coffee courtesy of member in training- Trey (Caden and Jared's younger brother).  After a couple of hours of mandatory on line gaming (At least that's what Caden and Jared said it was), we attempted to play two sets- all our songs and a couple of covers.
There was a couple we hadn't done very often but we are getting to be a tight unit.  Caden was especially inspired and was playing with a good edge and speed.  When the drummer drives the band everyone else tends to get into it more.  We usually do the one hour and power through the set but this time we were at it for two and a half hours. I broke a string in the last song of the first set (good timing).
Afterwards we all put on our new "The Discarded" hoodies and went out for dinner.
Caden- what do you think our best practice has been?
Me- our next one-ha!  But yeah that ranked right up there.  Good thing going into a record release that we are gelling at the right time.
That and we a slew of show in the next few months that will take us to a new level.
We're extremely excited by the release of this album but are equally excited about the new songs we've written since.  We can't wait to record and play them live along with the material from the album.
Next up- The Record Release and let's start filming some of these shows and making some videos!
(announcement of up coming shows after the release!)
JP
February 20, 2017
lyrics- song of the day
Time Bomb Heart
Got a time bomb heart
Carries heavy loads
Got a time bomb heart
Ready to explode
From all the hassles
From all of the grief
Now that it's gone,
You know it's such a relief
For my time bomb heart
Got a time bomb heart
And it's gonna give
Got a time bomb heart
But I want to live
I'm lookin' for answers,
I'm lookin' for peace
I'm gonna start over
And get a new lease
For my time bomb heart
Tick-tock Boom!
Got a time bomb heart
Carries heavy loads
Got a time bomb heart
Ready to explode
But I'm done with the cryin',
I'm done with despair
Now that it's broken,
Who's gonna care?
For my time bomb heart
Tick-tock, Boom!
Info:
Recorded August 27, 2016 @ Pro Gold Studios, Toronto, Canada
Mixed August 28, 2016 @ Pro Gold Studios, Toronto, Canada
Engineered and Mixed by Sir Ian Blurton
Produced by The Discarded
Mastered September 16, 2016 by Joao Carvalho (Mastering)
All photos by Rick McGinnis, All design and layout by Rachael Muir
All songs by J.P. Wasson, Wassong/SocanThe Discarded are:
J.P. – Lead vocals, guitar
Jared Dean- Bass, backing vocals
Caden Jax- Drums, backing vocals
February 19, 2017
lyrics- song of the day
Check it out
So you've inform me of your new life plan
But do you achieve enlightenment by switching the man?
If I was you. you know I'd check that shit
You got so much baggage you could go on a trip
Chorus:
Check it, check it, check it, check it, check it, check it, check it – check it out! (2X)
You've always complained that you had no voice
But things don't just happen, they begin with a choice
You must be getting tired of carrying it around
And all that baggage must be weighing you down
Chorus:
Check it, check it, check it, check it, check it, check it, check it – check it out! (2X)
Bridge:
you found your inner peace?
You gained a new lease?
New piece of luggage that you've created
Let's hope someday the scars will be faded
You made the decision to let it all go
Cause it's dragging you down and it's starting to show
But I don't see you checking that shit
Just created more baggage for your latest trip
Chorus:
Check it, check it, check it, check it, check it, check it, check it – check it out! (3X)
Info:
Recorded August 27, 2016 @ Pro Gold Studios, Toronto, Canada
Mixed August 28, 2016 @ Pro Gold Studios, Toronto, Canada
Engineered and Mixed by Sir Ian Blurton
Produced by The Discarded
Mastered September 16, 2016 by Joao Carvalho (Mastering)
All photos by Rick McGinnis, All design and layout by Rachael Muir
All songs by J.P. Wasson, Wassong/SocanThe Discarded are:
J.P. – Lead vocals, guitar
Jared Dean- Bass, backing vocals
Caden Jax- Drums, backing vocals
February 18, 2017
lyrics- Song of the day
Ballad of a Broken Man
You said it was complicated
Maybe that is why I'm frustrated
It didn't matter what I'd say
Either way you was going away
Don't give a damn about what I think
Got a feeling and it's starting to sink
Wanted the truth but you gave me a dare
Wanted a clue on how I'd fair
Chorus:
It's the ballad of a broken man
Singing about his broken plans
Sing it across this fair land
It's the ballad of a broken man.
A broken man 4X
Wanted in but you wanted out
You learned to scream, I learned to shout
That's not a message that I wanted to send
But all you wanted was this to end
Tell me, tell me, what I can do?
'Cause it seems it's all about you
Please, please I must know
Make it stop I don't want you to go
It's the ballad of a broken man
Singing about his broken plans
Sing it across this fair land
It's the ballad of a broken man.
It's the ballad of a broken man
Singing about his broken plans
Sing it across this fair land
It's the ballad of a broken man.
A broken man
Info:
Recorded August 27, 2016 @ Pro Gold Studios, Toronto, Canada
Mixed August 28, 2016 @ Pro Gold Studios, Toronto, Canada
Engineered and Mixed by Sir Ian Blurton
Produced by The Discarded
Mastered September 16, 2016 by Joao Carvalho (Mastering)
All photos by Rick McGinnis, All design and layout by Rachael Muir
All songs by J.P. Wasson, Wassong/SocanThe Discarded are:
J.P. – Lead vocals, guitar
Jared Dean- Bass, backing vocals
Caden Jax- Drums, backing vocals
February 17, 2017
lyrics- song of the day
Don't worry about me
Don't worry because I'm doing all right
Time flies well into the night
Don't worry because I'm doing fine
Sitting here with a bottle of red wine
Chorus:
Don't worry about me, don't shed a tear
Just watching T.V., have been for years
Don't worry 'cause I'm doing good
Why not, don't you think that I should?
Hanging out with a couple of friends
We drank and smoked, God when will it end
Chorus:
Don't worry 'bout me, don't give me no calls
Happy as can be, just having a ball
Don't worry 'cause I think I'll pull through
Life goes on even without you
Hanging out with a couple of friends
And time still flies even without you
Chorus:
Don't worry 'bout me, don't give me no calls
Happy as can be, don't care at all
Info:
Recorded August 27, 2016 @ Pro Gold Studios, Toronto, Canada
Mixed August 28, 2016 @ Pro Gold Studios, Toronto, Canada
Engineered and Mixed by Sir Ian Blurton
Produced by The Discarded
Mastered September 16, 2016 by Joao Carvalho (Mastering)
All photos by Rick McGinnis, All design and layout by Rachael Muir
All songs by J.P. Wasson, Wassong/Socan
The Discarded are:
J.P. – Lead vocals, guitar
Jared Dean- Bass, backing vocals
Caden Jax- Drums, backing vocals
February 16, 2017
lyrics- Song of the day
Cheque's on Time
A millionaire on minimum wage
So they says but not in this day and age
That job that I couldn't arrange
Looks like I'm down to pocket change
Chorus:
Cause I'm doing fine
Cause my cheque's on time
Tax break for the boys in suits
Let's give the poor some new recruits
Sawed the rungs on the ladder of success
Now you're up there, screw the rest
Chorus:
Bridge:
How did I get so damn bitter?
Never peg myself as a quitter
I'll bet you'd like me or so you'll find
Just happen to be the firing kind
Chorus:
Trickle down means I cut your lawn
Or work a shift from dusk till dawn
Maybe I could change your kid's diaper
Become a professional ass wiper
Double Chorus
Info:
Recorded August 27, 2016 @ Pro Gold Studios, Toronto, Canada
Mixed August 28, 2016 @ Pro Gold Studios, Toronto, Canada
Engineered and Mixed by Sir Ian Blurton
Produced by The Discarded
Mastered September 16, 2016 by Joao Carvalho (Mastering)
All photos by Rick McGinnis, All design and layout by Rachael Muir
All songs by J.P. Wasson, Wassong/SocanThe Discarded are:
J.P. – Lead vocals, guitar
Jared Dean- Bass, backing vocals
Caden Jax- Drums, backing vocals
Additional background vocals by Ian Blurton
February 15, 2017
lyrics- song of the day
Crybaby
Verse:
I'm a crybaby (8x)
Chorus:
Never lie down
Never go to sleep
Cause you're a crybaby
You're a crybaby
Don't make a sound
Don't make a peep
Cause you're a crybaby
You're a crybaby.
Verse:
You're a crybaby (8X)
Chorus:
You're a crybaby, you're a crybaby
Bridge:
Whaa
Whaa
Whaa
Whaaaaaaaaaaaa
Verse:
You're a crybaby. (8X)
Chorus:
You're a crybaby (7X)
I said cry!
Info:
Recorded August 27, 2016 @ Pro Gold Studios, Toronto, Canada
Mixed August 28, 2016 @ Pro Gold Studios, Toronto, Canada
Engineered and Mixed by Sir Ian Blurton
Produced by The Discarded
Mastered September 16, 2016 by Joao Carvalho (Mastering)
All photos by Rick McGinnis, All design and layout by Rachael Muir
All songs by J.P. Wasson, Wassong/SocanThe Discarded are:
J.P. – Lead vocals, guitar
Jared Dean- Bass, backing vocals
Caden Jax- Drums, backing vocals
February 14, 2017
lyrics- Song of the day
Could that be you
I need someone with integrity
I need someone who gets me
I want someone who can feel
I want someone who is real
Could that be you?
Could that be you?
Someone who is true-
Could that be you-you-you
You-you-you
Everyone wants a little slice
A little piece of paradise
Someone to have, someone to hold
Someone to love when I grow old
Could that be you?
Could that be you?
Someone who is true-
Could that be you-you-you
You-you-you
We both know it's been awhile
Since we laughed and since we smiled
Everybody wants a little spice
A little excitement in their life
Could that be you?
Could that be you?
Someone who is true-
Could that be you-you-you
You-you-you
You-you-you
You-you-you
Info:
Recorded August 27, 2016 @ Pro Gold Studios, Toronto, Canada
Mixed August 28, 2016 @ Pro Gold Studios, Toronto, Canada
Engineered and Mixed by Sir Ian Blurton
Produced by The Discarded
Mastered September 16, 2016 by Joao Carvalho (Mastering)
All photos by Rick McGinnis, All design and layout by Rachael Muir
All songs by J.P. Wasson, Wassong/SocanThe Discarded are:
J.P. – Lead vocals, guitar
Jared Dean- Bass, backing vocals
Caden Jax- Drums, backing vocals
February 14, 2017
Good interview from The Littlest Voice
https://www.thelittlestvoice.com/single-post/2017/02/15/Band-Feature-The-Discarded
February 10, 2017
http://www.fyimusicnews.ca/articles/2017/02/10/liner-notes-bullet-news-feb-10th
Thanks Kerry Doole for the mention- means a lot to all of us in the band.
"– Here's a cool rock 'n roll family story: Toronto punk rockers The Discarded comprise dad Joel Wasson and his teenage sons, Jared Dean (17) and Caden Jax (14). They bonded together through punk rock in the wake of a divorce, and are about to release a self-titled debut album. Engineered and mixed by local rock god Ian Blurton, it sounds like a cross between The Ramones and Social Distortion. The album comes out on Feb. 17, followed by a record release show at Duggan's Basement on Feb. 25. Of note: As J.P. Wasson, Joel drummed for Fifth Column, The Snowdogs, and others. Here he sings and plays guitar."- Kerry Doole
February 7, 2017
you are the song of the day on http://www.songshooter.com
tell the world!!!
Crybaby- song of the day on Songshooter!
"Billy Thin's Joint-  kind of a little bit rockabilly today. kind of… love this guys voice. billy"
February 5, 2017
lyrics- song of the day
Half full cup
Go!I'm working hard to pay my bills
I swallow down my bitter pill
Mopping up the tears I spill
All a part of survival skillsChorus:
I'm feeling down, I'm looking up
I'm too stupid to shut up
Cheers my friends and bottoms up
I'm drinking from my half full cupMy half full cup 3x (yeah I'm fucked up)I found my shoe and I hope it fits
I'll settle for the nasty bits
I continue on when others quit
I'm shaking off my latest hitsChorus:
I'm feeling down but looking up
I'm too stupid to shut up
Cheers my friends and bottoms up
Drinking from my half full cupMy half full cup 3x (yeah I'm fucked up)You know it's wrong but I know my rights
I'm careful where I pick my fights
My darkest hour and I see the light
That will take me to a new found heightsChorus:
I'm feeling down but looking up
I'm too stupid to shut up
Cheers my friend and bottoms up
Drinking from my half full cupMy half full cup 3x (yeah I'm fucked up)
Info:
Recorded August 27, 2016 @ Pro Gold Studios, Toronto, Canada
Mixed August 28, 2016 @ Pro Gold Studios, Toronto, Canada
Engineered and Mixed by Sir Ian Blurton
Produced by The Discarded
Mastered September 16, 2016 by Joao Carvalho (Mastering)
All photos by Rick McGinnis, All design and layout by Rachael Muir
All songs by J.P. Wasson, Wassong/SocanThe Discarded are:
J.P. – Lead vocals, guitar
Jared Dean- Bass, backing vocals
Caden Jax- Drums, backing vocals
February 4, 2017
lyrics- song of the day
Feel the glow
Yeah I know, that you don't care
Just goes to show, you're getting your share
Now you know, you haven't a care
You go with the flow, you think that's fair
You've got some issues; you've got some needs
You've got some addictions that you like to feed
Just goes to show that you don't care
Think of yourself , you think that's fair
Go with the flow, getting your share
And we all see that you don't care
Now that you have all your toys, it's time you act your age
The chapter your living is over, it's time you turned the page
You need to show, you're starting to care
Not about yourself but how to share
And maybe you'll grow and learn what's fair
Now that you're older and starting to care
Dad's right, it's good to share, hahahaha- good to share
So teach your children how to be kind
To love their neighbors, implant that in their mind
Just goes to show, you know what's fair
Now you see, you can care
Yeah dad was right, it's good to share
Can you feel the glow, now you care?
Can you feel the glow, now you care?
Can you feel the glow, now you care?
Can you feel the glow, now you care?
Can you feel the glow, now you care?
Can you feel the glow!
Info:
Recorded August 27, 2016 @ Pro Gold Studios, Toronto, Canada
Mixed August 28, 2016 @ Pro Gold Studios, Toronto, Canada
Engineered and Mixed by Sir Ian Blurton
Produced by The Discarded
Mastered September 16, 2016 by Joao Carvalho (Mastering)
All photos by Rick McGinnis, All design and layout by Rachael Muir
All songs by J.P. Wasson, Wassong/Socan
February 3, 2017
Had a few questions about if I'm forcing my kids to do this- helicopter parenting:
My response:
Nah…we're band mates everyone has an equal say and we all have to buy into what we are doing … I parent when I'm doing the parent thing. Here we relate more as peers – when a child gets older you have taught them what you can to be an individual – but a lot of that is who they decide to be on their own or through their friends/ peer group.
A parent needs to not treat them still as a child and more like a peer who has ideas and opinions – to see their parent as the flawed but real human that they are.
In the band we relate as peers – each expressing their musical ideas- each liking to cooperate and make a whole greater than the individual parts. As someone who did this when I was their age or has done this for a while I have instilled a certain work ethic and discipline to what it means to be band – but I am still learning and playing with them has challenged me to grow musically on my instrument (guitar) and as a songwriter as they too grow on their instrument.
I think everyone should be in band from a team building/ bonding experience – then they can discover what the expression means- we make beautiful music together.
I'm happy to say my kids are enough of individuals to say. "No dad this is a drag – I'm not doing that ". In the band they can and do – if it's their dishes- no.
They are very excited about we what are doing here and it is truly one of the most positive things that occurred in the last year for all of us.
January 28, 2017
More press! Thanks Mark Anthony Brennan
http://ridethetempo.com/2017/01/20/listen-discarded-crybaby/
and now top ten-
January 25, 2017http://ridethetempo.com/2017/01/28/weekly-top-10-january-20th27th-2017/
Thanks Kerry Doole for the inclusion !- FYI Music
Here's another interview we did back in October 2016 (our first interview ever)
January 25, 2017
So the vinyl album arrived yesterday!- I took a pic of Caden and Jared holding the album and directly behind them on the wall is a picute of them together at 5 and 2 years of age- too funny.
All ready to go for the album release.  Have more CD's- 5″ sticker of album cover, bass drum with logo on it and a banner with our logo coming next week. Just need to order some t-shirts next week once that artwork is done.
Canadian College Radio should be receiving the CD next week and we'll need to follow up with them about possible album play.
Caden and I (JP) covered my green Yamaha Stage custom drums in comic books and pictures- the toms are comic books with music themed covers.  The floor tom is Elvis (early shots) and the bass drum is all the Beatles Album covers- looks really cool-
We answered 5 questions for Canadian Beats- here's a link:
(Some other shows are starting to shape up as well- fingers crossed)
JP
January 20, 2017
It's been a busy week at Discarded central.  The whole bands been working hard getting press kits together, mailed out and gearing up for the record release show February 25th at Duggan's Brewery.  All Canada college radio has had the record sent to it and the following weeks will see the follow up on whether they received it and have decided to play any songs off the record (we think they should- you could encourage them too).  As well the media in Toronto have received the news of the impending release.  The official date is Feb.17th however it is available online through bandcamp, itunes etc.
First of all a big shout out to all the people who  have gotten it to this stage so far and they are listed below:
Ian Blurton- for his amazing studio, recording and mixing of the album.  He made Caden and Jared so comfortable for their first time in a studio and it shows in the record we were able to record.
Joao Carvalho- for his world class mastering and his guidance and assistance with mastering and manufacturing the vinyl.
Rick McGinnis- for his amazing pictures of the band
Rachael Muir- for here album art and fantastic graphics for sticker- CD's, Vinyl, etc. etc. etc.
Brenda MacDonald- for her work on this site and then all the revisions I needed (I would truly be lost without this)
Tina Cooper- for her organization of all this and guidance on what was needed to make this happen.  As well as the tireless work she is currently doing to let people know about this.
Fred for giving us the show a Duggan's for the release and Locomotive 8 for agreeing to play the show with us.
I think this is just a glimpse into what's been going on these past few months to get it to just here- the jumping off point.  No band is an island and there are many kind and helpful people who have donated their time and skill or have done many things for a fraction of what they should have understanding the small scale and individual/ personal level this is being done at.  This is not unique to the DIY, indie music band but is still very humbling and beautiful thing.  Thanks.
What can you do?- Tell a friend, tell someone you know who might like it, tell a stranger.  Share a tweet, or post (Thanks Janice Walker), most importantly for any indie band or recording the biggest thing you can do is "buy" a CD, Vinyl, download or pay to see them live.  That is what will sustain and grow all of this wonderful art.
Thanks- JP
January 15, 2017
Cool show at Hard Rock last night for Jared's 18th birthday.  Now we're excited to get ready for our record release show February 25th at Duggan's basement.  The vinyl is on route from the pressing plant and the talented Tina Cooper is assisting with the planning and logistics.- JP
January 7, 2017
The album is all pressed up and ready to go- arranging to have it delivered.  Until then Jared Dean turns 18 on January 14th and we'll be celebrating by playing a show at the Hard Rock Cafe on Yonge Street that night.- JP