One Page – PDF (Download)
Divorce sucks.
Making music, any kind of music but especially loud punky garage music, feels good.
Jared Dean – 17 years old- bass player and brother Caden Jax -14 years old- drummer figured that out quick. The boys needed something positive to grab on to something, something beyond online gaming, so they grabbed their rocker dad and formed a band.
J.P Wasson is best known as the drummer for popular Toronto bands like Fifth Column and The Snowdogs, but Caden wanted to drum, so in The Discarded, dad sings and plays guitar.
Jared, Caden and Joel spent their first seven months in their new house learning how live (alone) together, and how to play their instruments, and be in a band. They learned quickly, and, being two thirds impetuous teenagers, recorded their nine song self- titled album in August, 2016 at Pro Gold Studios, engineered and mixed by legendary Sir Ian Blurton. The Discarded recorded the whole nine songs in nine and half hours and could have done it quicker if they hadn't stopped to eat or broken a string.  That's rock and roll and nothing feels better.
— —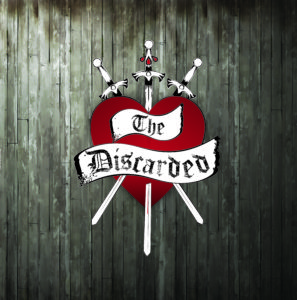 Download Hi Res: The Discarded Album Cover

The Discarded (9 Song Album) Tracks:
Feel The Glow
2. Could It Be You
3. Crybaby
4. Cheques On Time
5. Half Full Cup
6. Don't Worry About Me
7. Ballad of A Broken Man
8. Check It Out
9. Time Bomb Heat
Associated Websites/Fansites:
Soundcloud  (media download link to review)
Contact Info:
Joel Wasson
Cell: 519-217-5878
Email: thediscarded16@gmail.com
All photos- Rick McGinnis
Cover art – Rachael Muir